Despite multiple Federal Reserve's rate hikes to ease inflation, Oahu's housing market has remained resilient thanks to a limited inventory of available homes for sale and strong demand. While single-family inventory shortages have kept prices from falling, condo sales pushed prices to near-record highs last month.
Historically, Oahu's housing supply has significantly trailed demand. With the finite amount of buildable land coupled with increasing population growth, it doesn't seem the inventory shortfall will be mitigated anytime soon. The economic impact of the pandemic combined with rising mortgage rates further reduced the supply. Good for sellers, as prices continue to hold, but not especially favorable for buyers waiting for affordability to improve.
"Our market very much follows the basic supply and demand model: When supply is down, and demand is strong, the market responds by pushing prices higher," says Mike James, president of Coldwell Banker Realty. "Buyers need to get creative. Waiting until mortgage rates or prices to go down may not be the best strategy. Our best suggestion for buyers is to get prequalified — determine your price range at today's rates — and then shop what's available in that range. Remember, the MSP is the middle of the list — half the properties that sold last month, sold for less."
One buying strategy is to downshift from a single-family to a condo. Last month, the MSP of a condo on Oahu was up to near, record-high levels — $532,500 in September, within $3,500 of the all-time high of $536,000 set in March — yet perhaps more affordable than comparable SF homes. Recent months have seen condo prices on the rise, possibly indicating a move to the more-affordable buying option: buying a high-end condo instead of a low-end single-family home.
The Honolulu Board of Realtors reports that in September, there was an increase in sales of higher-priced condos. The $900,000 to $1,999,999 price range was the only condo segment that showed an increase in sales volume, jumping 31% year-over-year.
Of note, the MSP of a condo in Waikiki was up 40%, year-over-year — from $340,000 in August 2022 to $475,000 in August.
Other creative strategies might include buddy buying — going in on a purchase as co-owners with a friend or relative. Or renting a room to offset the mortgage with rental income (rentals are in high demand).
"As the third quarter ended, average U.S. mortgage rates held above 7%, reaching the highest level in more than 20 years," said Fran Villarmia-Kahawai, president of the Honolulu Board of Realtors®. "While the interest rate has presented some challenges, we continue to see strong demand from buyers, and sellers who receive offers more that the original asking price."
Indeed, 38 percent of single-family homes and 20% of condos sold above the original asking price in September. SF homes spent a median of 20 days on the market, while condos took a median of 21 days before a contract was accepted.
The chart of the month is from Freddie Mac showing that while the 30-year, fixed rate mortgage is up, the big picture offers some perspective.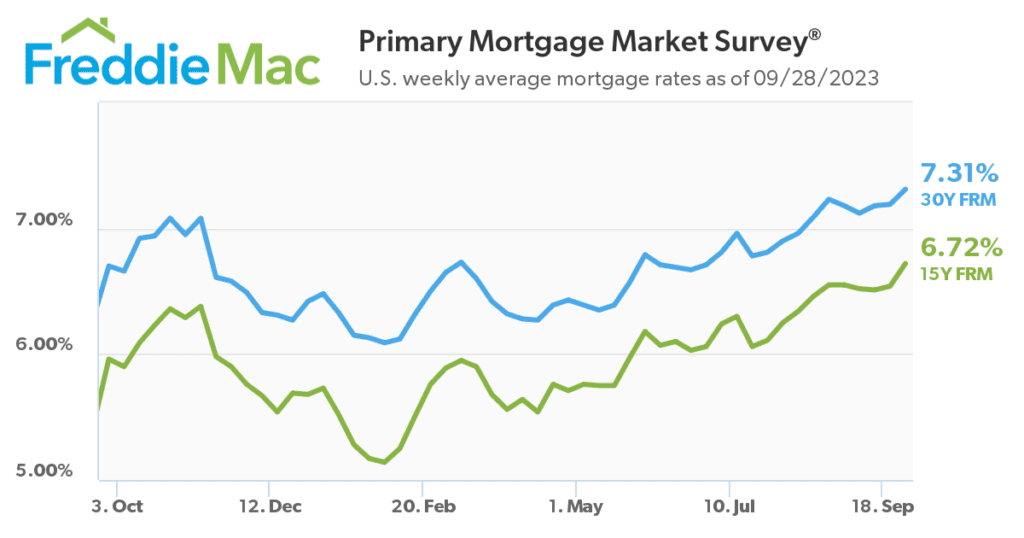 https://freddiemac.gcs-web.com/news-releases/news-release-details/mortgage-rates-reach-highest-level-almost-23-years
Sales of Single-Family Homes and Condos | September 2023
Source: Honolulu Board of REALTORS®, compiled from MLS data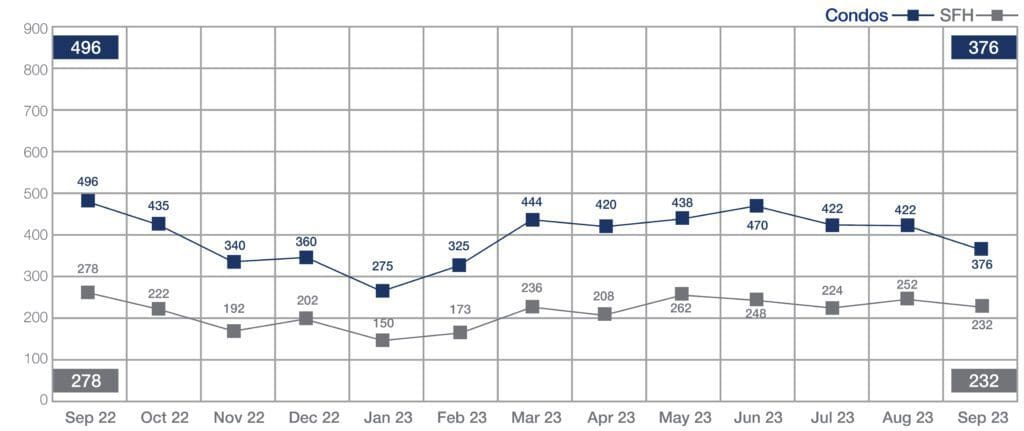 Compared to September 2022, fewer sales closed on Oahu last month. Single-family home closings were down 16.5% — from 278 in September 2022 to 232 last month. Condo sales decreased from 496 a year ago, to 376 last month — a 24.2% decline.
Single-family home sales in the $700,000 to $999,999 price range accounted for 36% of the month's total transactions, with most of those sales in the Ewa Plain. For the condo market, sales volume increased at higher price points and decreased in lower/more affordable price ranges.
Median Sales Price of Single-Family Homes and Condos | September 2023
Source: Honolulu Board of REALTORS®, compiled from MLS data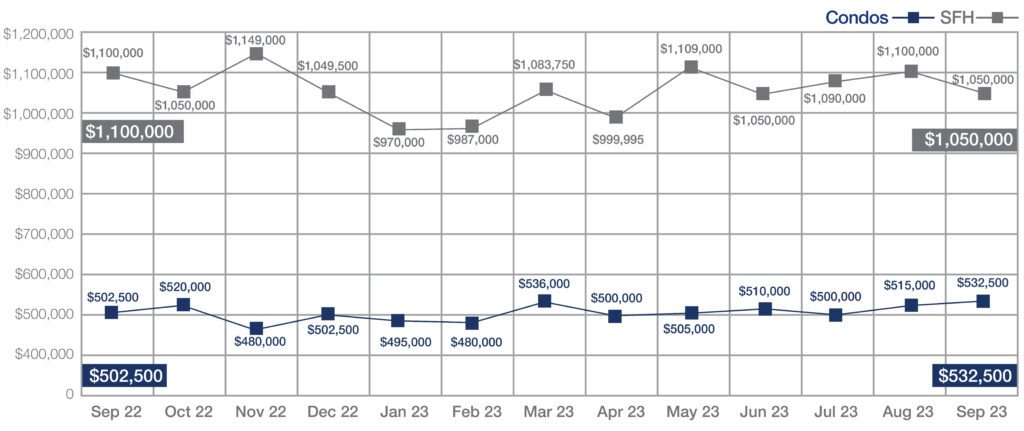 This month's headline is a median sales price bump up for condos — hitting $532,500, $3,500 shy from the all-time high set in March. Single-family home prices dipped slightly, from the MSP of $1,100,000 a year ago, to $1,050,000 last month.
NEIGHBORHOOD MARKET STANDOUTS
This month's spotlight is on Oahu's most affordable neighborhoods. Specifically, where homes and condos are selling below the island's median sales prices. Check it out.
Median Sales Price
Single Family                           
August 2023
August 2022
Ewa Plain
$900,000
$949,000
Makaha – Nanakuli
$690,000
$650,000
Makakilo
$1,010,000
$1,150,000
Pearl City-Aiea
$1,015,000
$1,100,000
Wahiawa
$817,500
$930,000
Waipahu
$888,000
$976,250
Windward Coast
$672,000
$1,890,000
Median Sales Price
Condos
August 2023
Aug-22
Kalihi – Palama
$479,000
$377,500
Makaha – Nanakuli
$257,500
$305,000
Makiki – Moiliili
$384,500
$410,000
Moanalua – Salt Lake
$380,000
$430,000
Pearl City – Aiea
$425,000
$495,000
Waikiki
$475,000
$340,000
Waipahu
$510,000
$544,000
Windward Coast
$408,556
$435,000
For an up-to-date market analysis of your property, contact Coldwell Banker Realty today. We are happy to provide you with a current valuation on your home.
SOURCE: Honolulu Board of REALTORS®, compiled from MLS data.