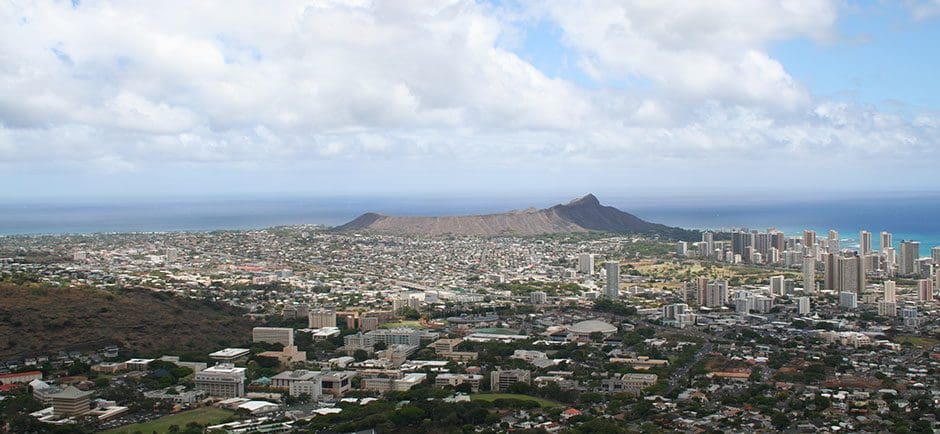 Welcome to the University District
Just northeast of downtown Honolulu is the neighborhood of Makiki which stretches east to west from Punahou Street to Pensacola Street and north to south from Round Top Drive/Makiki Heights Drive to Lunalilo Freeway. Makiki is home to Punahou School, Hawaii's elite private school attended by President Barack Obama and golfer Michelle Wie, and Kapiolani Medical Center for Women and Children, Hawaii's only maternity, newborn and pediatric specialty hospital. Punchbowl Crater is where you will find the National Memorial Cemetery of the Pacific which serves as a memorial to honor the men and women who served in the U.S. Armed Forces and is a popular tourist attraction. For a panoramic view of Diamond Head, Waikiki, Punchbowl Crater, and Honolulu, take a cool, refreshing drive through a lush, green rain forest to Tantalus Lookout. A drive up scenic Makiki Heights Drive will take you to Spalding House, formerly known as The Contemporary Museum, which combines exhibitions of contemporary art with terraced gardens and spectacular views of Honolulu.
Office Locations in the Community
Kaimuki was once an ostrich farm for King Kalakaua in the 1800's.

The proper Hawaiian pronunciation is Ka-imu-ki, which translates to "The ti root oven". It is said that legendary menehunes built ti ovens all over the hillside in Kaimuki.

Singer Bruno Mars and US Olympian and Wrestler, Clarissa Chun are alumni of President Theodore Roosevelt High School in Makiki.
Living in the University District Area
Locals tend to think of Manoa as Oahu's college town. In addition to the University of Hawaii, other Manoa schools include St. Francis and the Mid-Pacific Institute. Manoa also has a host of history, culture and numerous dining options. The Manoa Heritage Center offer tours on the cultural history of Manoa Valley, Native Hawaiian cultural practices, and uses and origins of native plants. The Manoa Valley Theatre is one of the most celebrated theaters in Honolulu. Now in its 42nd consecutive season, Manoa Valley Theatre was founded by a group of graduate students from the Theatre Department at the University of Hawaii with a focus on contemporary mainstream Broadway and Off-Broadway shows. Just down the road from Manoa Valley Theatre is Manoa Marketplace, the main retail and dining area of the community. There are a variety of restaurants, shops, a farmers market, post office, bakeries, post office and plenty of outdoor seating.
Located just east of Manoa and Makiki and inland from Diamond Head is the community of Kaimuki. Considered to be one of Honolulu's oldest neighborhoods, Kaimuki continues to be a thriving area filled with an eclectic mix of shops and dining establishments many of which are located on the main street of Waialae Avenue. One of Hawaii's most famous musicians, Israel Kamakawiwoole, was raised in Kaimuki. Kaimuki is also home to several private schools including Saint Louis School for boys, Sacred Hearts Academy for girls, and St. Patrick's School, which is co-ed. Chaminade University, the only Catholic university in Hawaii, is also located in Kaimuki. Third Fridays Kaimuki is a monthly event where Kaimuki merchants and businesses come together to celebrate all the great things that the community has to offer! A short drive away from Waikiki and downtown Honolulu, the historic neighborhood of Kaimuki has a unique character and its prime location makes it an ideal place to live, work and play.
University District Related Stories