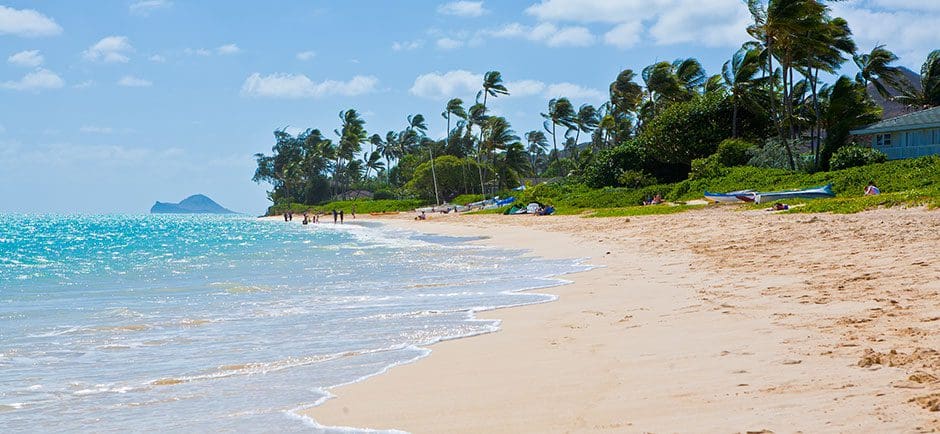 Welcome to the Windward Coast
A short drive from Honolulu over the mountainous Pali Highway will bring you to Oahu's lush Windward Coast. Upon exiting the tunnels to the other side of the Koolau Mountain Range, Oahu's Windward Coast feels like a whole new world. The shimmering waters of Kailua, a thriving beach town, draws you towards delectable local eats, trendy retail stores and the beautiful sands of Lanikai Beach. From Kailua, you can head eastward and visit Sea Life Park, Makapuu Lighthouse and Hanauma Bay. Or head northbound towards Kaneohe to the Valley of the Temples, a Japanese Buddhist temple, and lunch at Heeia Kea Pier which is known for its farm to table menu featuring "fresh off the boat" local items. Continue driving along the two-lane Kamehameha Highway towards Kualoa Ranch where you might recognize the picturesque views from movies such as Jurassic Park or the television show, Lost. You can also stop in for some horseback riding, ATV tours and other outdoor activities.
Office Locations in the Community
The dominant tradewinds of Kailua Beach are famous for their kit and wind surfing.

The sunrise over the Mokulua Islands is one of the most unforgettable sunrises on the island.
Living in the Windward Coast Area
Directly across from Kualoa Ranch is Mokolii, nicknamed "Chinaman's Hat" for its shape, a popular location for picture-taking. From here, the highway meanders along the coast past Kaaawa, Kahana Bay and Laie, home of the Polynesian Cultural Center. One of Hawaii's most popular tourist attractions, the Polynesian Cultural Center is made up of villages and exhibits that represent the cultures of Aotearoa, Fiji, Hawaii, Marquesas, Samoa, Tahiti, Tonga and Easter Island. You can literally spend an entire day at the Polynesian Culture Center by capping off with the award-winning Alii Luau and Ha: Breath of Life night show. Just past Laie is the town of Kahuku which is known as the place where you can find a number of shrimp trucks including Giovanni's Shrimp Truck, Romy's Kahuku Prawns & Shrimp and Fumi's Kahuku Shrimp, all serving some the most tasty garlic shrimp lunch plates on the island.