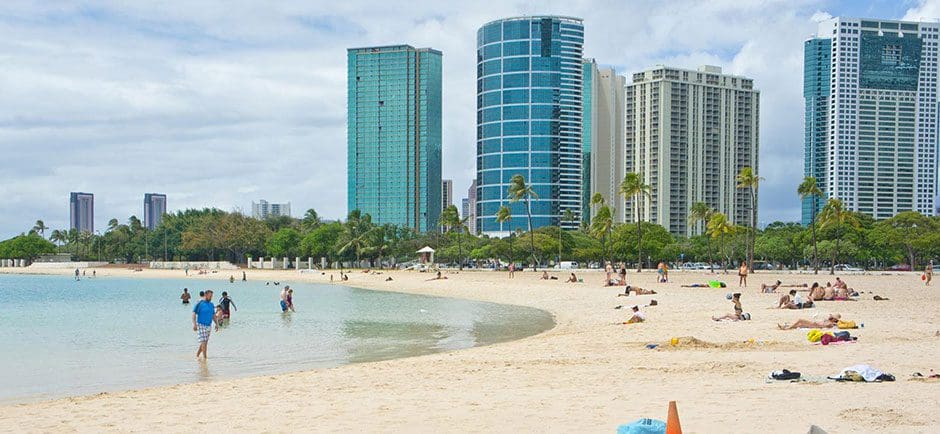 Situated between downtown Honolulu and Waikiki, Kakaako is one of the fastest-changing communities of urban Honolulu. For many, its location along with the rise in shopping, entertainment and dining offerings make Kakaako an attractive place to live. It also has become a dynamic and lively neighborhood through events such as Eat the Street and the Honolulu Night Market, both of which attract thousands of locals and visitors every month. Cultural offerings such as concerts, opera, symphony and ballet at the Neal S. Blaisdell Center, the Honolulu Museum of Art and Children's Discovery Center appeal to all ages. The main gathering place is Ward Center which boasts Honolulu's largest movie screen through TitanXC, dining and retail.
Office Locations in the Community
Kakaʻako is situated between Ala Moana near Waikīkī to the east, downtown Honolulu and Honolulu Harbor to the west.

Kakaʻako dates back to ancient times and was a place of recreation where its waters were used by native Hawaiians for cleansing, fishing and religious practices.
Living in the Kakaako Area
Kakaako also is home to the University of Hawaii's John A. Burns School of Medicine named after the state's second governor. In the next few years, Kakaako will be transformed through two master-planned communities, one of which is Ward Village. Not only will Ward Village add more residential and retail to Kakaako, but also pedestrian-friendly streets and walkways. More evidence that Kakaako will become a true walking neighborhood is that it currently is planned to be a stop on the Honolulu Rail route which starts in East Kapolei and ends at Ala Moana Center. Shaped by culture, retail, dining and its residents, Kakaako continues to evolve.