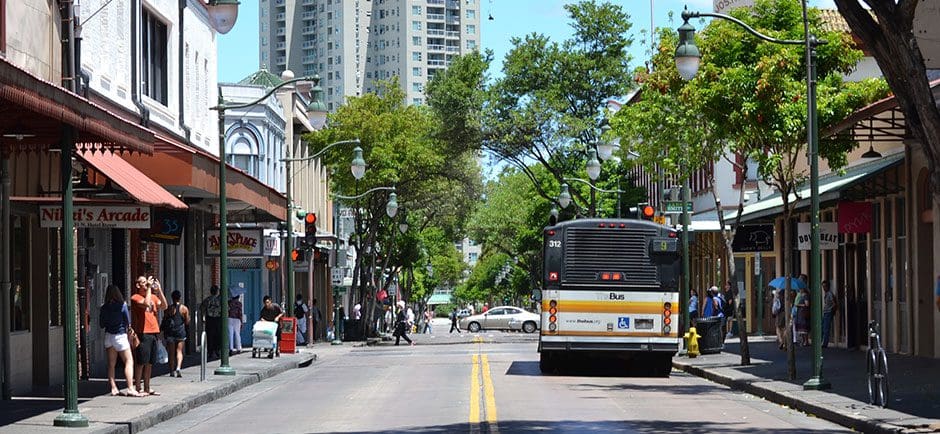 Welcome to Downtown Honolulu
Downtown Honolulu is the historic, economic, governmental, and central part of Honolulu. It can be subdivided into four neighborhoods – the Capitol District, the Central Business District, Chinatown and the Waterfront. Located within the State Capitol District are federal, state, and city governmental buildings most notably the Hawaii State Capitol, Honolulu Hale (city hall), and Iolani Palace. The State Capitol Building opened in 1969 and is considered a unique work of architecture. The cone-shaped chambers represent Hawaii's volcanoes while the building columns are reminiscent of palm trees.
Iolani Palace is the only royal palace on American soil. It had served as the royal residence for Hawaii's last two monarchs, King Kalakaua and Queen Liliuokalani. Today, guided tours are available at Iolani Palace. Across the street from Iolani Palace is the King Kamehameha Statute, which fronts Honolulu's old judicial building. The statue pays tribute to Hawaii's warrior king and stands eight feet six inches high. Every June 11 on Kamehameha Day, which is a state holiday, the statue is adorned with beautiful floral leis, some as long as 18 feet in length.
Office Locations in the Community
Honolulu is the only city in the United States that is home to a royal palace.

More than 100 beaches surround Honolulu, more than almost any other city in the world.

Honolulu's home island, Oahu, is part of the largest mountain range in the world – most of which is under water.

Honolulu has one of the largest concentrations of Buddhist temples in the Western world, with over 30 spread through the city.
Living in Downtown Honolulu
The Central Business District is where you will find the headquarters of many Hawaii-based companies and skyscrapers such as the Alexander & Baldwin Building, First Hawaiian Center, Hawaiian Electric Building and Hawaiian Telcom Building. You will also find the YWCA and Hawaii Pacific University here.
Located between Nuuanu Stream and Nuuanu Avenue, Chinatown is filled with ethnic eateries, lei stands, fresh produce vendors, herbal shops and more. A small section on Nuuanu Avenue has become an Arts District and is home to cultural institutions, performing arts venues such as the historic Hawaii Theatre, galleries and arts events.
The focal point of the waterfront area Aloha Tower Marketplace, the only place in the country that combines a visitor attraction (Aloha Tower), shops, restaurants, and a working commercial harbor facility. Aloha Tower was once the tallest building in Hawaii when it was erected in 1926 to welcome passenger ships arriving at Honolulu Harbor. Architects designed the Marketplace to complement its location at Honolulu Harbor, even going as far as selecting a special shade of green for the roof tiles to blend in with the waterfront.
Downtown Honolulu Related Stories