It was only two years ago — August 2021 — when the median sales price of an Oahu home topped $1 million for the first time.
Despite an economy-crippling pandemic and multiple mortgage rate hikes over the past 24 months, the MSP has slipped under $1 million only three times — and barely so. Oahu's highest monthly median sales price on record was May 2022 when single-family MSP hit $1,153,500. Eight months later, it fell to a two-year low of $970,000 in January 2023. Still, by last month, the MSP of a single-family home was $1,110,000.
Home prices are the most recognized market indicator. Experiencing such market stability in an average two-year period would indicate well-balanced conditions beneficial for both buyers and sellers. But the multiple economic challenges brought about by COVID precipitated significantly reduced inventories, which intensified competition among buyers only to be exacerbated by the Federal Reserve's numerous rate increases boosting mortgage interest rates (A 30-year, fixed mortgage rate shot up after ten years of rock-bottom lows of 3% to nearly 7% in the last 12 months — severely impeding housing affordability.)
While some buyers have switched gears, by downsizing their end game, narrowing their sights to condos and townhomes, others have been priced out of the market altogether — possibly unnecessarily so.
According to Freddie Mac, buyers who shop around for the best mortgage package can save money, possibly enough to partially offset the effects of higher interest rates. This Freddie Mac chart shows simulated annual payment savings for buyers who apply with two or more lenders. Mortgages rates provided on the Honolulu Board of Realtors® website this week — hicentral.com — are compiled and provided by lenders, Hawaii Association of Mortgage Brokers, and Mortgage Bankers Association of Hawaii and provided as a public service by the HBR, show rates varied between 6.375% and 7%.
The Freddie Mac website cautions, "There is some credit risk when applying for several mortgages in a short span, but ultimately, a borrower must decide if those risks outweigh the savings from lower payments."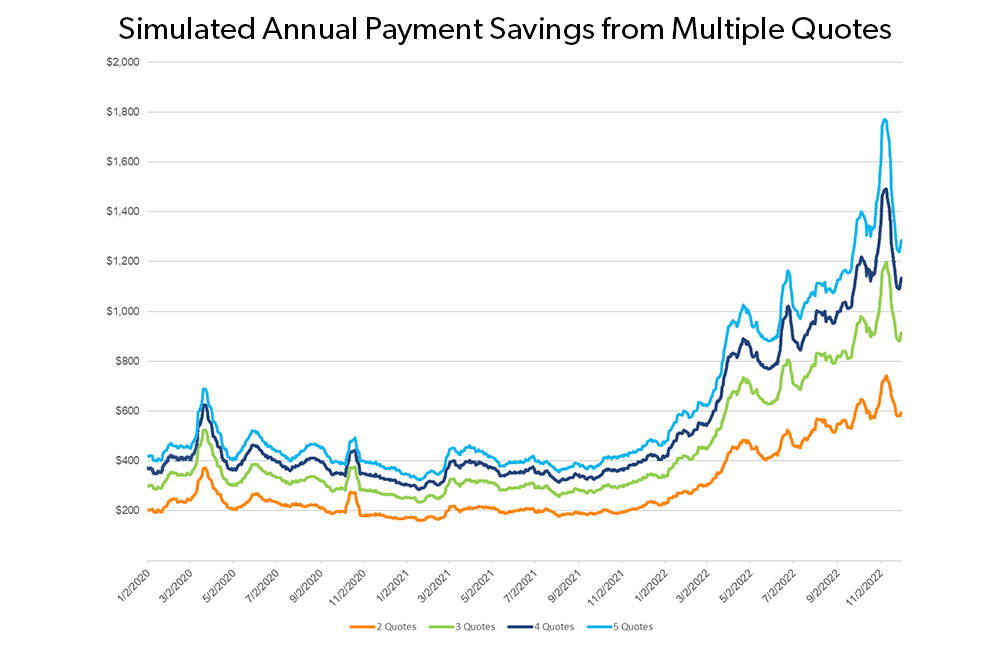 (https://www.freddiemac.com/research/insight/20230216-when-rates-are-higher-borrowers-who-shop-around-save)
On the other hand, the tight supply keeps sellers happy as prices rise. The low supply likewise increases competition among buyers. The Honolulu Board of Realtors® reports one-third of single-family home sales and one-quarter of condo sales are selling for more than the original asking price in August.
"It's important for sellers not to have tunnel vision regarding the effect of higher interest rates — not all buyers are affected. Remember, buyers with cash are looking for value and are unconcerned with rising mortgage rates," says Mike James, president of Coldwell Banker Realty. "Properties in both categories are moving at a consistent pace — roughly five days slower than a year ago — with the median of 18 days on the market for a single-family home and 23 days for a condo, so the market is moving along. The homes we list, get sold."
Sales of Single-Family Homes and Condos | August 2023
Source: Honolulu Board of REALTORS®, compiled from MLS data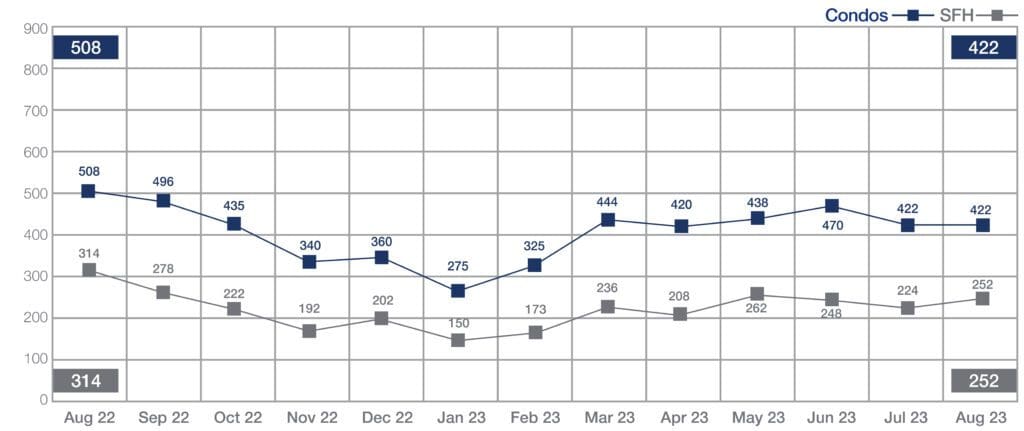 There were fewer closed sales on Oahu last month, when compared to August 2022. The number of single-family homes that closed in August was down 19.7% — from 314 in August 2022 to 252 last month. Condo sales decreased from 508 a year ago, to 422 last month — a 16.9% decline.
SF homes in the $900,000 to $1,199,999 price range experienced the most sizable decrease in sales activity — down 32% from a year ago, possibly due to homebuyers reducing their target price to accommodate the higher mortgage rates. Indeed, in the SF price range between $600,000 and $899,999, there was a 13.1% increase in sales from last August.
Median Sales Price of Single-Family Homes and Condos | August 2023
Source: Honolulu Board of REALTORS®, compiled from MLS data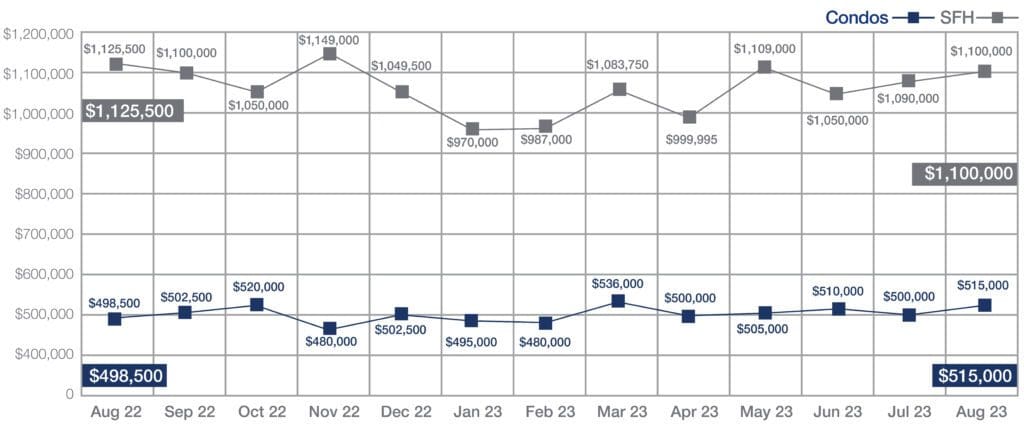 The median sales price of a single-family home dipped 1.4% to $1,110,000, from $1,125,500 a year ago. However, the MSP for condos increased 3.3% — from $498,500 a year ago, to $515,000 last month.
These small gains and small losses illustrate a moderately balanced market despite mortgage rate and low inventory challenges. HBR reports an island-wide increase in inventory of SF homes in the $799,999-and-below price range — up 33.8% from a year ago. The most significant inventory increases occurred in the Kaneohe and Leeward regions, with year-over-year increases of 52.9% and 16.7%, respectively.
NEIGHBORHOOD MARKET STANDOUTS
Single-family median sales prices dipped slightly, while condo MSP rose in August. While the breakdown of the individual neighborhood MSP takes a little longer to tally, we spotlight the single-family and condo neighborhoods where the MSP is rising compared to a year ago.
Median Sales Price
SF
July 2023
July 2022
Aina Haina – Kapahulu
$1,637,500
$1,550,000
Hawaii Kai
$1,475,000
$1,450,000
Kalihi – Palama
$929,000
$925,000
Kapahulu – Diamond Head
$1,450,000
$1,300,000
Makaha – Nanakuli
$700,000
$680,000
Makakilo
$1,100,000
$930,000
Makiki – Moiliili
$1,656,605
$1,425,000
Mililani
$1,158,500
$1,065,000
Moanalua – Salt Lake
$1,094,000
$1,087,500
Wahiawa
$829,500
$777,500
Median Sales Price
Condos
July 2023
July 2022
Downtown – Nuuanu
$608,500
$423,000
Ewa Plain
$680,000
$630,000
Kailua – Waimanalo
$750,500
$721,500
Kaneohe
$763,000
$610,000
Kapahulu – Diamond Head
$2,300,000
$609,500
Makakilo
$607,500
$512,000