Even with mortgage interest rates being twice what they were a year ago, according to a CNN report this week, our local real estate market is off to a strong 2023. The 2022 annual stats from the Honolulu Board of Realtors reveal that while sales have slowed overall, the annual median sales prices from 2021 to 2022— in single-family and condos — have continued to rise.
And while it is logically expected that higher interest rates would lead to fewer sales overall, it is interesting to point out is that sales volume for homes and condos in the higher price ranges — $1.3 to $1.599 million for single-family homes, and $700,000 or more for condos — were up!
Yet, with significant decreases in the sales volume in the lower-end of the market — due perhaps to fewer listings in the lower price ranges —the drop in overall sales volume may be better attributed to a reduced pool of qualified buyers for the higher-priced properties.
In 2022, every region of the island experienced a decline in sales volume. For example, HBR reported that 207 fewer single-family homes sold in the Ewa Plain, year-over-year, marking a 23% decline for that area. Similarly, sales in Kaneohe and Diamond Head regions were down by 34.4% and 31.1%, respectively. Indeed, island-wide condo sales were down in every neighborhood except on the North Shore, where condo sales were up by 17.2%.
Indeed, the HBR reports that activity waned over the course of 2022, with the annual new listings down 13.5% for single-family homes and down 8.7% for condos. Nonetheless, properties moved quickly, with a year-end, median days on the market of 12 days.
Here is a summary of events that decisively changed the 2022 local market:
In the second quarter of 2022, 63% of single-family homes and 44% of condos closed above the original asking price.
In May, the SF home market set a record MSP of $1,153,500; In June, the condo market hit a record median of $534,000.
Mortgage interest rates continued to rise, with average rates reaching the 7% range in late October and then ending 2022 in the mid-6% range.
By the fourth quarter, the percentage of properties selling above the original asking price dropped to 29% of SF home sales and 25% of condo sales.
For December, year-over-year prices of single-family homes prices were down 0.05% —from $1,050,000 in December 2021 to $1,049,500 last month. Conversely, the MSP for condos in December was up 3.6%.
Despite active inventory remaining well below pre-pandemic levels, more single-family homes and condos were available across the island in varying price ranges — giving buyers more choices. Compared with December 2021, active listings in December 2022 were up island-wide — up 93.2% in single-family homes, and up 23.7% in condos.  In the SF home market, the $800,000 to $999,999 range saw a whopping 225% increase, with 143 listings remaining at the end of the year, compared to only 44 listings that remained at the end of December 2021.
And, the median days on the market when comparing December 2021 to December 2022 — was up to 25 days for a single-family home, and up to 21 days for a condo — giving buyers more time to make a decision.
"There are benefits to buyers, and benefits to sellers in this market. The fact that prices remain strong is encouraging sellers and prospective sellers," says Mike James, president of Coldwell Banker Realty. "If you're thinking about listing your home, you'll first want to first get an accurate market analysis to see what the current value is today. Our experienced agents are practiced at computing home values and the service is complimentary."
Sales of Single-Family Homes and Condos | December 2022
Source: Honolulu Board of REALTORS®, compiled from MLS data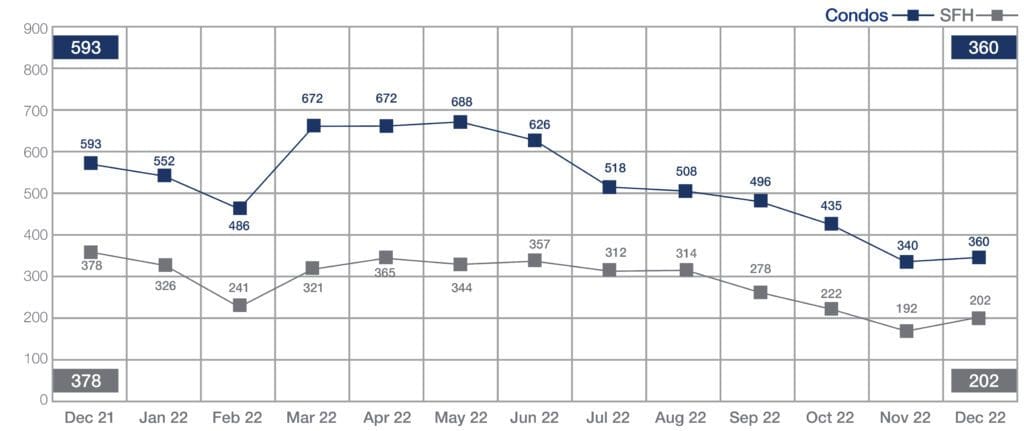 The number of sales on the island in December is down from December 2021. Single-family home sales volume was down 46.6% — from 378 homes closed in December 2021 to 202 last month. Condo sales were down 39.3% — from 593 in December 2021 to 360 last month.
However, sales have picked up since November 2022, with SF and condo sales rising 5.2% and 5.9%, respectively, from the prior month.
For the 12 months of 2022, the total number of closed sales was also down from 2021 — down 23.2% in the SF home segment, and down 11.8% in the condo segment.
Median Sales Price of Single-Family Homes and Condos | December  2022
Source: Honolulu Board of REALTORS®, compiled from MLS data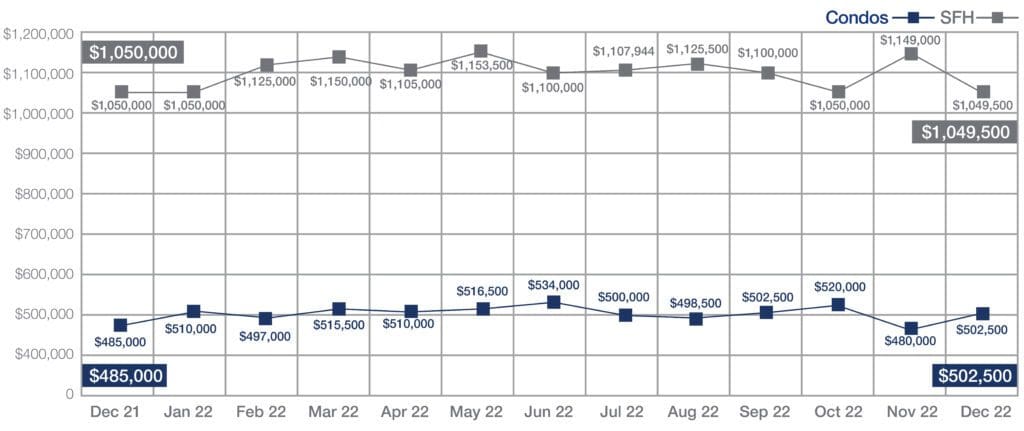 For the first time, the annual median sales price of a single-family home on Oahu broke the million-dollar mark. The annual MSP in 2022 was $1,105,000, up 10.5% from the 2021 MSP of $990,000, which was the previous high.
Condominium prices also hit an all-time annual high of $510,000 — an increase of 9.4% from the MSP in 2021 of $475,000.
Comparing December 2021 to December 2022, the SF MSP had inched down $500 from $1,050,000 in 2021 to $1,049,500 last month. Condo prices increased slightly last month to a median $502,500 from $485,000 in December 2021.
The percent of original list price to sales price percentage continued to decline, with SF sellers receiving a median of 96.7% of their asking price in December, compared to 102.1% a year ago. Condo sellers also received a smaller percentage of their asking price in December compared to December 2021 — 98.5% from 100% a year ago.
NEIGHBORHOOD MARKET STANDOUTS
Median sale prices have been rising quickly in the last eight years. And while rising rates are affecting sales volume and prices, there are still neighborhoods where prices are up by more than 10%.
| | | |
| --- | --- | --- |
| Single Family | Nov. 2022 | % increase from Nov. 2021 |
| Aina Haina-Kuliouou | $2,647,500 | 110% |
| Downtown-Nuuanu | $1,405,000 | 41% |
| Kalihi-Palama | $1,150,000 | 21% |
| Kaneohe | $1,295,000 | 10% |
| Moanalua-Salt Lake | $1,110,000 | 17% |
| North Shore | $2,367,500 | 82% |
| | | |
| --- | --- | --- |
| Condos | Nov. 2022 | % increase from Nov. 2021 |
| Hawaii Kai | $870,000 | 30% |
| Kapahulu-Diamond Head | $629,500 | 14% |
| Makakilo | $610,000 | 18% |
| Makiki-Moiliili | $437,000 | 28% |
| North Shore | $725,000 | 74% |
| Wahiawa | $278,685 | 46% |
| Windward Coast | $420,000 | 57% |
To find out the MSP for your neighborhood, ask your Coldwell Banker Realtor®.
SOURCE: Honolulu Board of REALTORS®, compiled from MLS data.