Oahu's finite amount of available island land on which to build, and historically limited inventory of homes for sale has long been the fundamentals for the island's relentless housing demand, sustained rise in prices, and a prolonged seller's market.
But, in July, there was a much-needed inventory relief for frustrated buyers. Active single-family inventory increased 38.8% — from 415 homes for sale in July 2021 to 576 last month. And active condo inventory jumped from 969 listings in July 2021 to 1,050. These higher active-inventory counts hint that a more buyer-friendly market is emerging — a welcome change — for buyers left frustrated by months of slim pickings.
"Fewer buyers and less competition equal more price reductions and fewer sales — good news for buyers," says  Mike James, president of Coldwell Banker Realty. "And sellers are happy too because while sales volume figures are down from a year ago, when we compare last month's closed sales volume to pre-pandemic 2019 figures, they are about the same — the market remains strong. Prices are also trending up — Oahu condos set another record month in July."
But even with some price reductions, and less competition, and more inventory, some buyers are struggling with the effects of higher mortgage interest rates. A year ago, July 2021, 30-year term mortgage rates were below 3% — under 2.5% in some cases. Today, rates are consistently above 5% and moving higher, meaning the same house costs more money each month — causing borrowers to reevaluate what they can afford. The higher rates are literally knocking some buyers out of the game completely.
"So, the market is a bit more buyer-friendly for those who can still qualify for a sufficient mortgage," adds James. "But some buyers may be forced out of the market — that's how impactful interest rates can be. And that may also account for last month's slowing sales volume. When mortgage money gets tight, the qualified-buyer pool shrinks, and sales slow."
The "big picture" market indicators are positive: Median sales prices are up. Active inventory is trending up. Most sellers are receiving full list price — some higher. Homes are selling very quickly. Median days on the market, while slightly more than a year ago, is still very low.
Sales of Single-Family Homes and Condos | July 2022
Source: Honolulu Board of REALTORS®, compiled from MLS data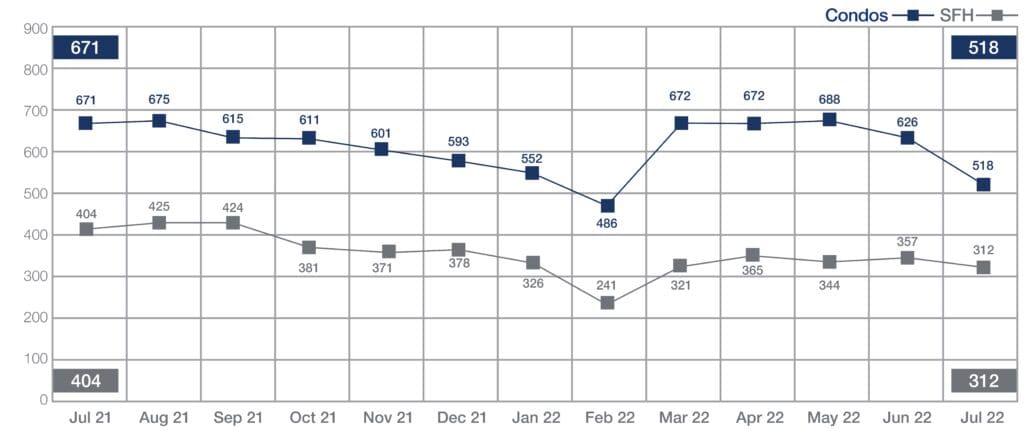 July housing sales volume dropped 22.8%  from July 2021, with fewer closed sales for single-family homes and condos closed. Single-family homes dropped from 404 in July 2021 to 312 last month, and condo sales tumbled from 671 a year ago to 518.
This was the third consecutive month with double-digit declines in sales volume.
Single-family home sales fell across most regions on Oahu, with the largest drop in volume occurring in the Ewa Plain, Kaneohe, and Leeward regions. In the condo market, the Metro region accounted for the largest decline in sales volume.
Median Sales Price of Single-Family Homes and Condos | July 2022
Source: Honolulu Board of REALTORS®, compiled from MLS data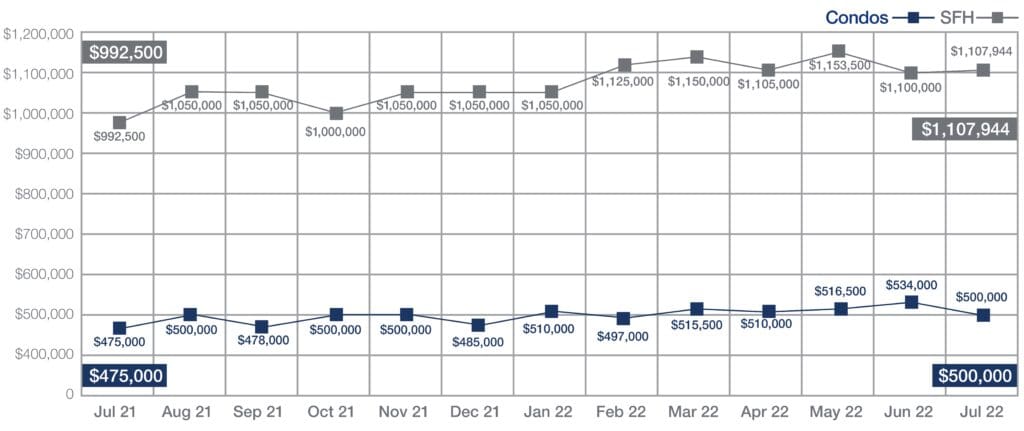 The median sales price for a single-family home on Oahu was up for the 12th consecutive month in July — to $1,107,944, from $992,500 a year ago, and 11.6% increase. And the MSP of a condo in July was up 5.3% to $500,000 from $475,000 the previous year. This was the 5th consecutive month the condo MSP came in at $500,000 or higher.
And both year-to-date figures are trending higher than the year-end for 2021. Year-to-date, the SF MSP at the end of July was $1,110,500, compared to $990,000 at the end of 2021. The condo year-to-date figure in July was $515,000, compared to $475,000 in 2021.
NEIGHBORHOOD MARKET STANDOUTS
While overall sales volume on Oahu dropped last month in most neighborhoods, this was not the case island wide. So where were the number of closed sales up? Below are the neighborhoods when, in June, closed sales were higher than 2021.
SF
Closed sales
June 2022
Closed sales
June 2021
% change
Mililani
27
17
59%
Moanalua/Salt Lake
5
4
25%
North Shore
13
7
86%
Waipahu
27
20
35%
Condos
Closed sales
June 2022
Closed sales
June 2021
 % change
Ewa Plain
62
60
3%
Hawaii Kai
25
20
25%
Moanalua/Salt Lake
29
23
26%
Waikiki
133
126
6%