Oahu real estate prices continue to be fueled by healthy demand and a limited supply of homes for sale, compounded by the fact that fewer people want to move during the pandemic.
Kalama Kim, principal broker at Coldwell Banker Realty, explains, "Bidding wars are still prevalent in our market. However, we are seeing single-digit competing offers instead of twenty-something offers. That said, sellers continue to have the leverage in negotiations when multiple offers create a bidding war."
But another factor may also be pushing prices skyward.
Sales of luxury homes at $2 million and above increased 110 percent during the third quarter of 2021 compared to 2020 — and up 188.2% in October. As the third quarter ended, Oahu's luxury real estate market recorded 330 $2-million-plus sales, compared to 157 in 2020.
"The luxury real estate market on Oahu does not appear to be waning. Buyer demand continues from both the local and the U.S. mainland buyer segments," says Patti Nakagawa, Global Luxury director for Coldwell Banker Realty. "The second-home market is driving the higher price points, especially single-family homes, with offshore buyers looking for multiple getaway homes in gateway cities with warmer climates near the beach. Honolulu is perfectly poised to capture that market, especially when international buyers return."
Diamond Head recorded 18 sales over $2 million in the third quarter alone, followed by Kakaako with 13, Hawaii Loa Ridge with 12, and Lanikai with 11 closed sales.
Historically, the month of September slows down in the number of escrows opened, but this year, September high-end sales were robust. With no indication of a slowdown, the number of luxury single-family homes in escrow was up 268% — 70 in September, compared to 19 a year ago.
"We continue to see a high level of demand for larger homes that provide space and amenities suitable for remote work and study as well as recreation from home," Nakagawa adds.
Even with the holidays approaching, Kim points out, it is a good time to sell across all price points.
"Many sellers are looking for assurances when they sell their home," Kim says. "The current market offers just that with homes selling extremely quickly and buyers paying over asking."
In October, the median time properties spent on the market: 10 days for single-family homes and 11 days for condos.
Some buyers may find they have a window of reduced competition now through January, while many buyers are distracted by the holidays. In any case, the market tempo is quick and offers need to be hard-hitting to be attractive.
"We consistently see buyers offering to pay expenses of a sale, which sellers normally pay for, including items like termite inspection and surveys," says Kim. "Even more attractive to a seller is an appraisal clause that states the buyer will come in with enough cash to offset appraisals that come in low."
Sales of Single-Family Homes and Condos | October 2021
Source: Honolulu Board of REALTORS®, compiled from MLS data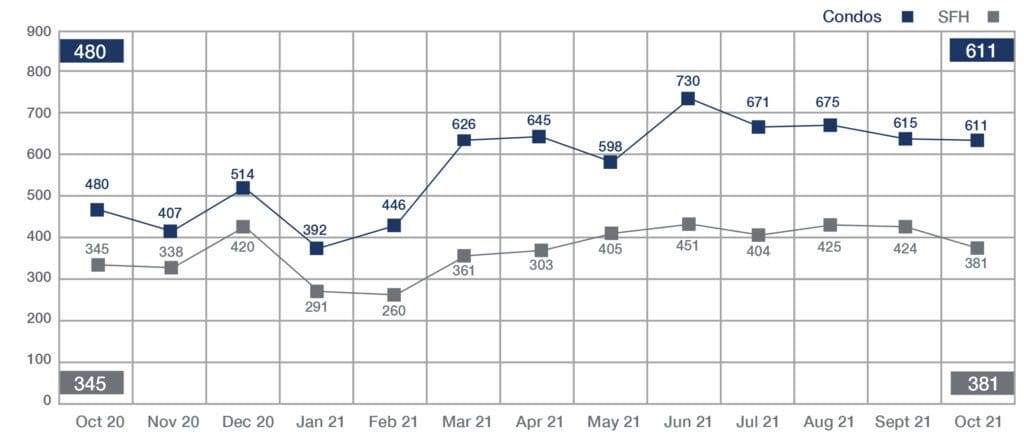 In October, 10.4% more single-family home sales closed — 381 as compared to 345 homes closed in October 2020. Year-to-date, 3,777 homes closed during the first 11 months of 2021, as compared to 3,080 during the same period 2020 — a 22.6% increase.
Condo sales in October jumped 27.3% from a year ago, with 611 condos closed, compared to 480 closings a year ago. Year-to-date condo sales activity is staggering  — up 58.8%, from 3,785 closings during the first eleven months of 2020, to 6,009 during the same period this year.
Median Sales Price of Single-Family Homes and Condos | October 2021
Source: Honolulu Board of REALTORS®, compiled from MLS data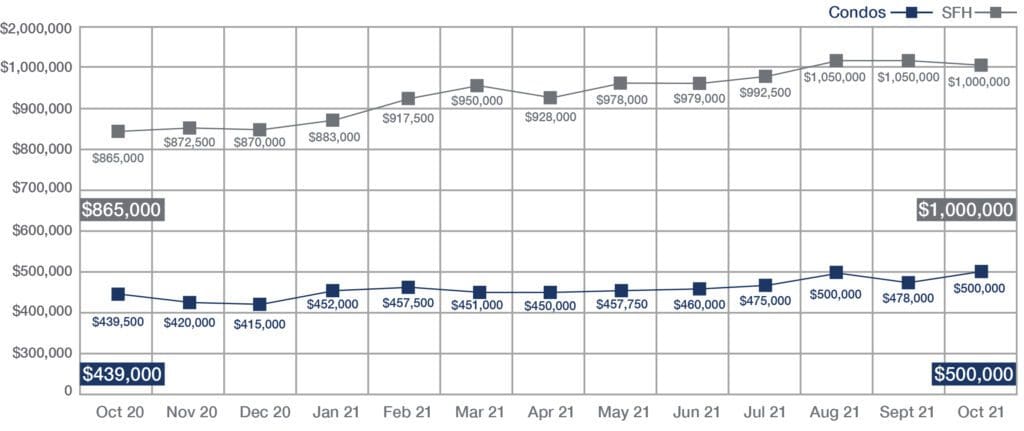 The median price for a single-family home fell slightly, to $1 million, while the median condo price tied the August record of $500,000 in October.
The number of SF homes and condos selling for more than the asking price increased by nearly 20% over October 2020. Roughly 62% or 236 single-family homes and 41% or 251 condos closed above the original asking price, according to the Honolulu Board of Realtors®.
NEIGHBORHOOD MARKET STANDOUTS
For those buyers who may be discouraged by the recent increases in prices, below are those neighborhoods where SF prices are available below MSP of $1 million, and condos below $500,000.
| | |
| --- | --- |
| Single Family | MSP September 2021 (Year-to-Date) |
| Ewa Plain | $840,000 |
| Kalihi-Palama | $860,000 |
| Makaha – Nanakuli | $630,000 |
| Makakilo | $900,000 |
| Mililani | $965,000 |
| Pearl City – Aiea | $920,000 |
| Wahiawa | $744,500 |
| Waipahu | $840,500 |
| Windward Coast | $974,500 |
| | |
| --- | --- |
| Condos | MSP September 2021 (Year-to-Date) |
| Kalihi – Palama | $399,000 |
| Makaha – Nanakuli   | $199,950 |
| Makakilo | $485,000 |
| Makiki – Moiliili | $398,000 |
| Mililani | $465,000 |
| Moanalua – Salt Lake | $415,000 |
| Pearl City – Aiea | $429,500 |
| Wahiawa | $245,000 |
| Waikiki | $400,000 |
| Waipahu | $438,000 |
| Windward Coast | $264,500 |
SOURCE: Honolulu Board of REALTORS®, compiled from MLS data.
To find out the MSP for your neighborhood, ask your Coldwell Banker Realtor®.