Statistics show that roughly two out of every three single-family home sales closed for more than the original asking price in September. Bids above the asking price were most prevalent in the Ewa Plain, representing more than 80% of the region's third-quarter sales.
Condo sales activity in the $700,000 and above price range more than doubled, year-over-year, with 129 closed sales in September, compared to 57 a year ago. Meanwhile, nearly 40% of condos sold for more than the asking price in the third quarter, especially in the Central, Ewa Plain, and Makakilo regions. Offers over-asking price comprised more than 70% of sales in these three markets.
Yet, Kalama Kim, principal broker at Coldwell Banker Realty, explains the boom in Ewa, and says there may be a window of opportunity for frustrated buyers. "The increase of work-from-home employment has made homes outside of the urban core more attractive to the workforce by offering more space for the money without the hassle of sitting in traffic."
Kim also notes a slight slowing of demand. "We are now seeing less than five offers per property, instead of the dozen or more offers sellers received previously.
"Buyer burnout has been on the rise, but now is the time for persistence and an opportunity for buyers to get a second wind, as bidding wars ease and demand slows. Once COVID-19 restrictions ease, sellers will likely react with an increase of homes for sale."
"The combination of increased savings during the pandemic, low mortgage interest rates, and equity growth continues to fuel buyer demand," adds Mike James, president of Coldwell Banker Realty.
Indeed, September did mark an uptick in new listings in both SF and condos, compared to 2020. However active inventory, which represents properties listed and open for sale at the end of the month, fell sharply. The number of active SF listings fell 17.4%,  while condo listings dropped 40.9%.
Sales of Single-Family Homes and Condos | September 2021
Source: Honolulu Board of REALTORS®, compiled from MLS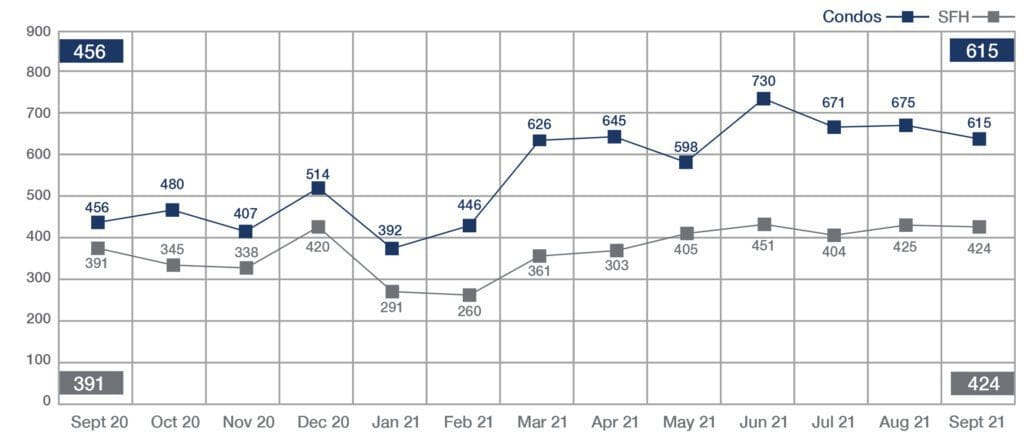 In September, 424 single-family home sales closed, 8.4% more than September 2020 when 391 homes closed. Year-to-date, 3,396 homes closed during the first 10 months of 2021, as compared to 2,735 during the same period 2020 — a 24.2% increase.
In September, condo sales jumped 34.9% from a year ago, with 615 condos closed, compared to 456 closings a year ago. Year-to-date condo stats are impressive  — up 63.3%, from 3,305 closings during the first ten months of 2020, to 5,398 during the same period this year.
Median Sales Price of Single-Family Homes and Condos | September 2021
Source: Honolulu Board of REALTORS®, compiled from MLS data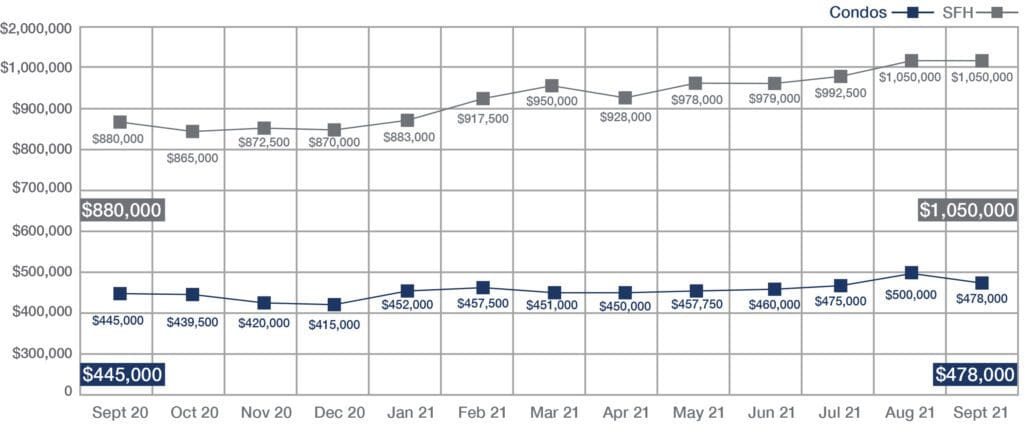 The median price for a single-family home remained at $1,050,000, while the median condo price rose 7.4% in September to $478,000.
According to the Honolulu Board of Realtors®, roughly 57% of SF homes sold in September at $1 million and above. The most volume growth occurred in the $1 million to $1,399,999 range, with more than double the sales as of September 2020.
With the median sale price, half the homes sold closed higher, and half closed lower. Ongoing competition for affordable price ranges, along with the uptick of closed sales at higher price points in both segments, continue to put upward pressure on the MSP.
NEIGHBORHOOD MARKET STANDOUTS
For those buyers who may be discouraged by the recent increases in prices, below are those neighborhoods where SF prices are available below MSP of $1 million, and condos below $500,000.
| | |
| --- | --- |
| Single Family |  MSP August 2021 |
| Ewa Plain | $856,000 |
| Kalihi-Palama | $850,000 |
| Makaha – Nanakuli | $630,000 |
| Mililani | $915,000 |
| Pearl City – Aiea | $905,000 |
| Wahiawa | $732,050 |
| Waipahu | $890,000 |
| | |
| --- | --- |
| Condos | MSP August 2021 |
| Kalihi – Palama | $281,000 |
| Makaha – Nanakuli | $180,000 |
| Makiki – Moiliili | $445,000 |
| Mililani | $485,000 |
| Moanalua – Salt Lake | $442,500 |
| North Shore | $498,000 |
| Pearl City – Aiea | $410,000 |
| Wahiawa | $273,000 |
| Waialae-Kahala | $370,000 |
| Waikiki | $452,400 |
| Windward Coast | $137,000 |
To see what the MSP is in your neighborhood, ask your Coldwell Banker Realtor®.
SOURCE: Honolulu Board of REALTORS®, compiled from MLS data.