Low mortgage interest rates and chronic low inventory of listings drove prices to record highs again in June. Single-family median prices peaked for the fifth time in six months, to $979,000 — edging out last month's record. Last month's MSP condo at $460,000 was just shy of the record high MSP of $461,500 set in July 2019.  
And while interest rates and inventory have continued to drive the market for many months, the market dynamics have shifted somewhat in 2021 due to a unique combination of influences.  
"We are in a vastly different market now compared to this time last year, when activity was slowly starting to ramp up versus now, when properties are moving into escrow in record time," says Shannon Heaven, president, Honolulu Board of Realtors®. "In particular, the condo market surged in 2021 because some buyers decided not to pursue a single-family home due to the severe lack of inventory and competitive bidding wars." 
 Kalama Kim, principal broker at Coldwell Banker Realty, adds there are additional influences motivating buyers. 
 "Other factors affecting the market may be consumer confidence for the future, and wealth accumulated during the pandemic," says Kim. "Over the past few months, demand for condos and townhomes have increased significantly. This increase may be due to a lack of single-family home inventory, the fact that condos are more reasonably priced compared to SF homes, or confidence that we are coming out of the pandemic." 
 Resale figures released by the Honolulu Board of Realtors®, compare market activity in June 2021 to June 2020, when real estate activity first began to pick up following the economic standstill brought on by the pandemic. The statistics are eye opening. 
 The median number of days on the market for single-family homes is down to eight days before escrow is opened — plummeting 60% from June 2020 when the DOM was 20 days. Condos are selling faster too — down 72.5%. The median DOM for a condo was 40 days a year ago, down to 11 days last month.  
 Second quarter DOM was nine days for single-family homes, and 13 days for condos, decreases of 57.1% and 58.1%, respectively, for the first six months of the year. The snooze-you-lose, rapid-fire sales fuel multiple buyers bringing in their best offers. 
 So far in 2021, the tendency for properties to sell above the asking price persists —57.7% of single-family homes and 32.9% of condos sold for more than the original asking price. These over-asking selling prices confirm bidding wars are occurring at rates not seen in recent memory in the islands, according to Mike James, president of Coldwell Banker Realty. 
 "However, those numbers directly correlate to the stay-at-home period of the pandemic," says James. "These are unprecedented times, and underscore the need for buyers and sellers to seek the experienced guidance of their Realtor®." 
 Sales of Single-Family Homes and Condos | June 2021 
Source: Honolulu Board of REALTORS®, compiled from MLS data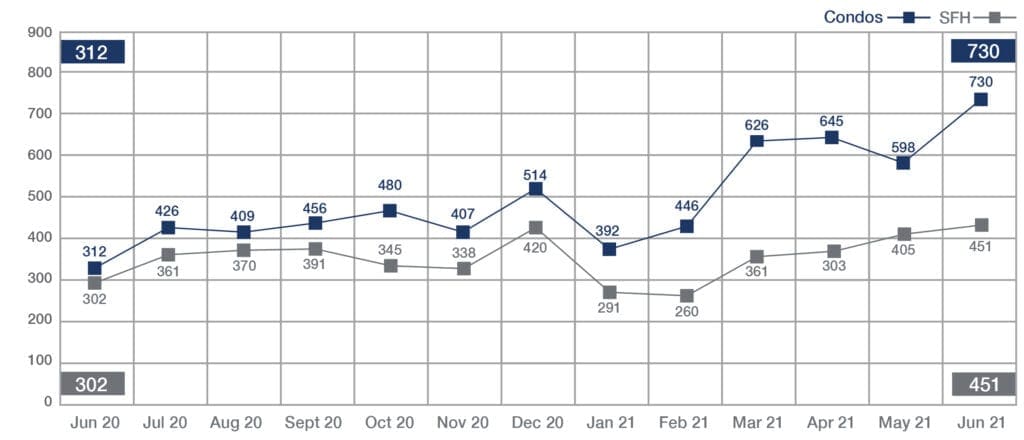 There were 451 single-family home sales in June, an increase of 49.3% over June 2020, when 302 homes closed.  
The number of condos that closed in June, astonishingly, more than doubled — jumping 134% from a year ago. There were 730 condos closed in June, compared to 312 that closed a year ago.  
Year-to-date, second quarter figures are equally remarkable. After the first six months of 2021, 2,143 single-family homes closed — a 32.9% increase over 2020 closings. The six-month condo stats are even more jaw dropping — up 70.7%, from 2,014 closings during the first six months of 2020, to 3,437 during that period this year.  
 Median Sales Price of Single-Family Homes and Condos | June 2021  
Source: Honolulu Board of REALTORS®, compiled from MLS data 

Increasing to $979,000, June single-family homes set the fifth record MSP high in six months, breaking May's previous record of $978,000, and up more than $200,000 from June 2020 MSP of $770,000. 
 NEIGHBORHOOD MARKET STANDOUTS 
As the median price of a single-family home inches toward $1 million, the top 10 priced condo Oahu neighborhoods have a year-to-date MSP of more than $500,000.
Condo

 

 MSP May 2021

 

  

MSP May 2020

 

Aina Haina – Kuliouou

 

$657,000

 

$911,000

 

Ala Moana – Kakaako   

 

$605,000

 

$699,500

 

Downtown – Nuuanu

 

$575,000

 

$575,000

 

Ewa Plain

 

$590,000

 

$514,995

 

Hawaii Kai

 

$680,000

 

$673,000

 

Kailua – Waimanalo

 

$687,000

 

$675,000

 

Kaneohe

 

$560,000

 

$552,000

 

Kapahulu – Diamond Head

 

$582,000

 

$574,500

 

North Shore

 

$540,000

 

$440,000

 

Waialae – Kahala

 

$585,000

 

$525,000

 

 

 

 
 To see what the MSP is in your neighborhood, ask your Coldwell Banker Realtor®. 
 SOURCE: Honolulu Board of REALTORS®, compiled from MLS data.