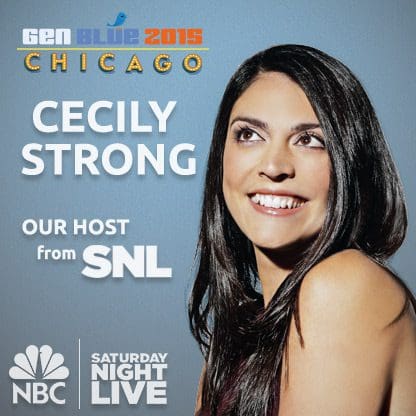 Live from Chicago…it's Coldwell Banker's 2015 Generation Blue Experience! In just one week, Coldwell Banker's industry-leading international training and networking event is heading to the Windy City. Thousands of Coldwell Banker Independent Sales Associates throughout the company's global network will be in attendance, September 16-18.
Chicagoland-native and Saturday Night Live star Cecily Strong is returning to her hometown to host the event and Coldwell Banker couldn't be more excited.
Cecily is known for her SNL character, "The Girl You Wish You Hadn't Started a Conversation With at a Party," and she's roasted presidents, politicians and celebrities.
Welcome to Gen Blue, Cecily!
Other exciting highlights from the Coldwell Banker Gen Blue event include live lip synching battles and a performance by DJ Mary Mac, a final night party at the world-famous Soldier Field and, of course, numerous speakers and skill development sessions to help attendees re-energize and take their business to the next level.
Fun. Celebration. Networking. Skill development. It's the Coldwell Banker way.