The countdown to Hollywood's biggest night of the year is on—and talented leaders in the film industry are anxiously waiting to hear which nominees will walk away with a prestigious Oscar award. If you were somehow able to score an exclusive pair of tickets to the event—make sure to scout out all of the nominees on the red carpet for us. If, however, you are like most of us, you'll be watching the Oscars in the comfort of your own home with friends and family, and an assortment of refreshments and, of course, champagne to toast the winners.  While finding the right snacks and bubbly is a breeze, creating an Oscar-worthy pad for entertaining guests and family is not.
Wondering what it takes to win? Take a look at five Hawaii homes that seamlessly incorporate Oscar-worthy elements into their design.
 1. Making a Grand Entrance:
No red carpet? No problem. Making a grand entrance is what the Oscars is all about—and with these soaring ceilings, custom finishes and ocean views—this home's grand entry (pictured above) has what it takes to take home its very own Oscar.
2. The All-Inclusive Pass
Oscar night isn't complete without an amazing selection of food and drinks. Give your guests a taste of the Oscars where the real magic happens—the kitchen. This stunning Honolulu kitchen wows with its panoramic views, open floor plan and state of the art appliances.
Looking for a little Oscar-snack inspiration? Create a fun-spin on staple theater foods like this Oscar-award winning popcorn with pretzels, mini-reeses and an assortment of candy topped with gold sprinkles, or these Tuxedo Hot Dogs dressed to the nines for the occasion. Toast to an eventful night with some champagne and popcorn prior to taking your seats.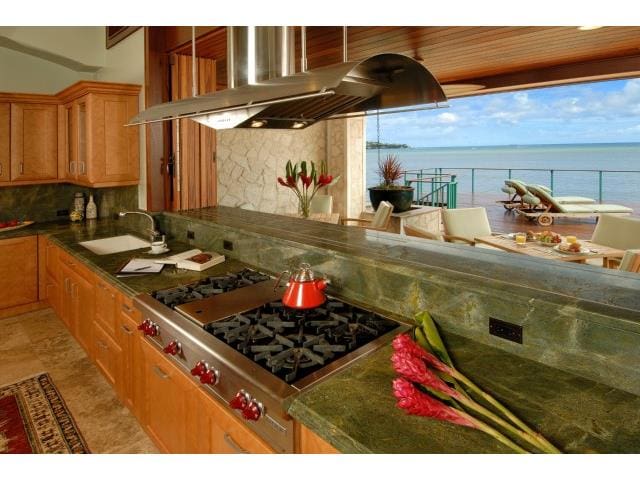 3. Take Your Guests Backstage:
What's better than going to the Oscars? Getting backstage passes… Take your guests from the red carpet to your very own backstage action with an exclusive viewing room. This Honolulu home boasts its very own state of the art theater room with lounge seating and modern fixes, and it captures what the Oscars is all about with just the right amount of glitz and glamour.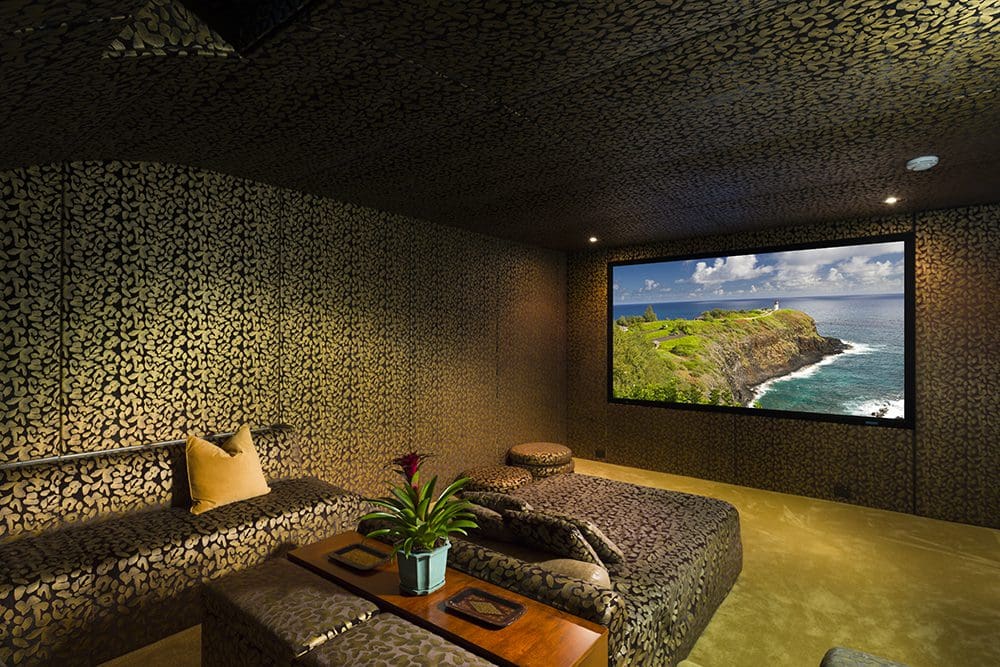 4. Dress to Impress:
One cannot simply attend the Oscars in casual clothing. In fact, weeks go into preparing for the big night—we're talking make up, hair, gowns, and tuxedos—the whole works. So to help you and your guests primp and prep before your own party, make sure your bathroom is red carpet ready. Take this Lanikai Hillside master bath for example—with its front row ocean views, custom bath and woodwork, and luxurious finishes—guests are free to indulge every step of the way.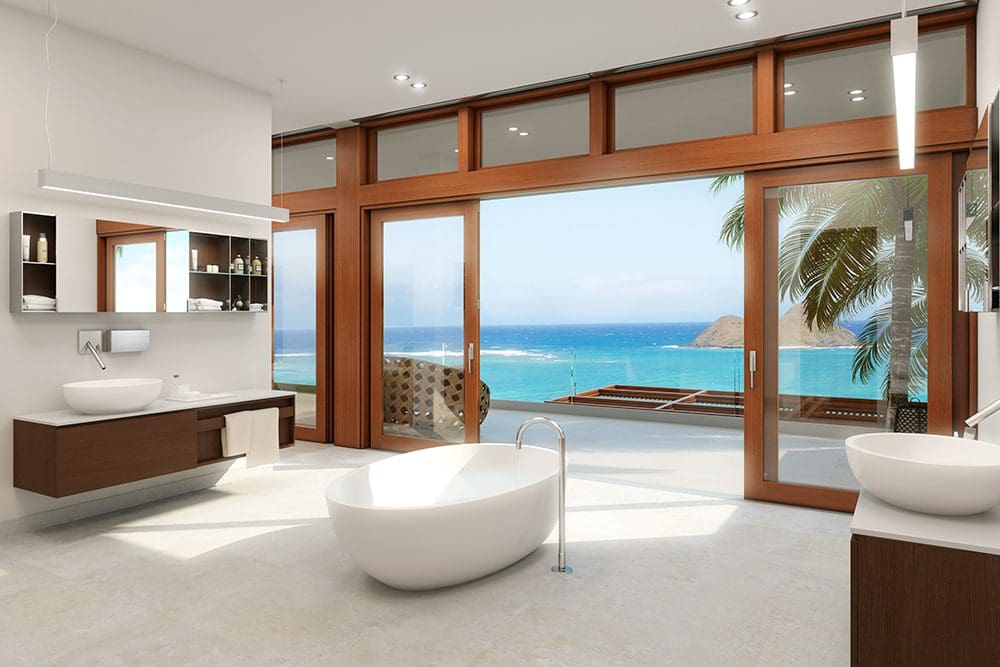 5. A Toast to Creativity:
The Oscars is a time to celebrate and recognize true talent and creativity. From films and directors to costume design and musical scores—out of the box thinking is always admired. And what better way to nod to this event than with some unique design elements of your own? This beachfront property tests the limits of creativity with panoramic ocean views, soaring ceilings with custom woodwork, and an intricately carved staircase. It's the perfect place to wind down with a glass of champagne after an eventful evening.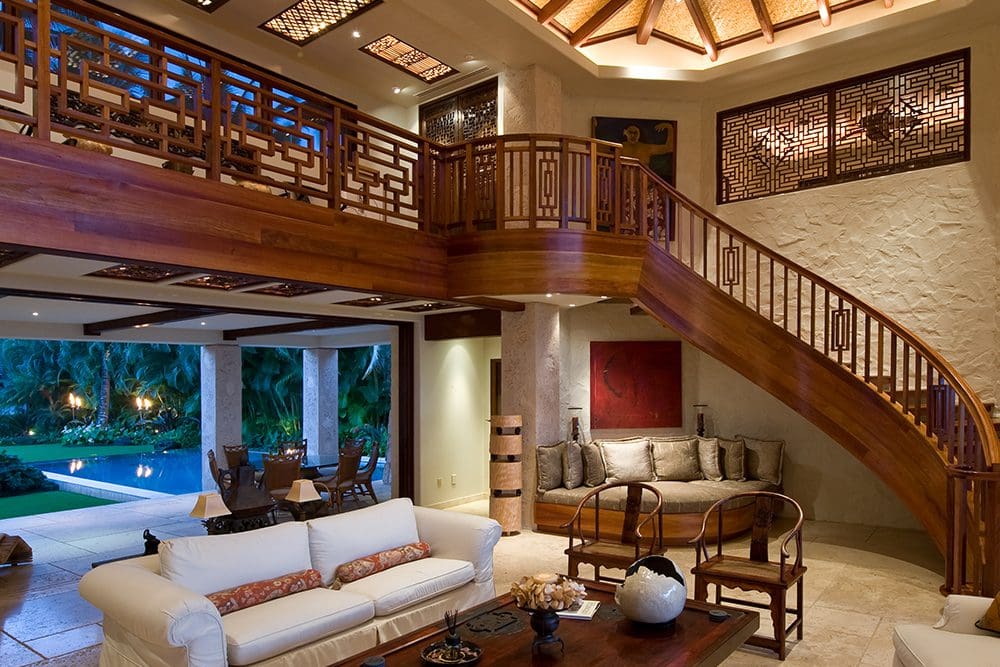 What are you doing to get your home Oscar-ready? Let us know in the comments section below!