Rising interest rates and hand-wringing challenges aside, Oahu's housing market's steadfast value is strong.
"The economic obstacles affecting our market are certainly real, but overwhelmingly, our market — and specifically our product — has a long-standing and constant value," says Mike James, president of Coldwell Banker Realty. "Buyers are resolute in their desire to own a slice of paradise here on our beautiful island, and despite economic challenges, current statistics reported by the Honolulu Board of Realtors® remain positive."
Median sales prices remain in rock-stable territory year-over-year, with single-family homes dipping slightly — 1.6% to $1,090,000 and condos steady, holding at $500,000.
On the upside, 53% of single-family home sales closed for the full asking price or higher. In the condo market, 47% of total sales received the full asking price or higher. Those numbers were slightly higher last year.
HBR also reported sales volume was down, which may likely be related to the fact that there was a decline in new listings last month — down 28.8% year-over-year for SF homes, and down 15.4% for condos.
On the other hand, contract signings increased in the Ewa Plain, Waipahu, and Pearl City — with growth rates of 18.5%, 18.8%, and 13.3%, respectively. The Leeward region stood out for condos, reporting a significant boost of 92.3% contract signings, year-over-year.
If you're interested in buying or selling, the best thing you can do is to work with a real estate professional who is committed to helping you achieve your real estate goals.
Sales of Single-Family Homes and Condos | July 2023
Source: Honolulu Board of REALTORS®, compiled from MLS data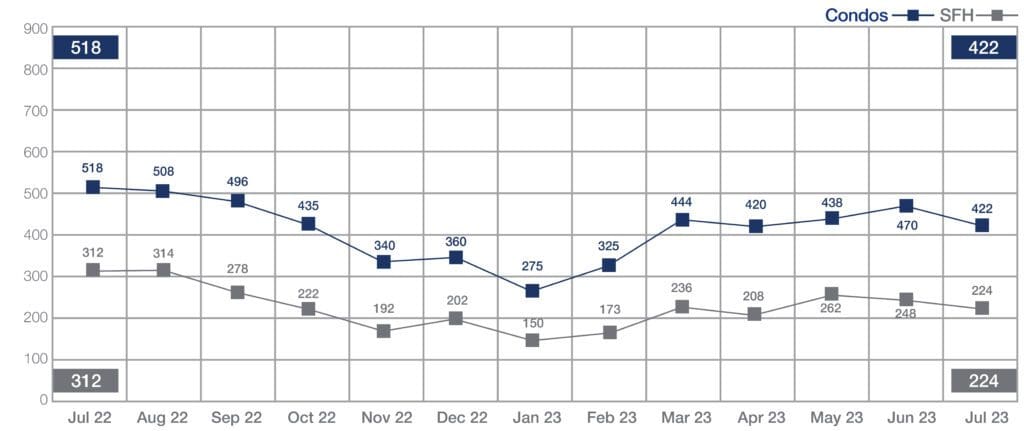 Overall closed sales on Oahu were fewer last month compared to July 2022.
Single-family home sales dropped from 312 homes closed in July 2022 to 224 closings last month. Condo sales were also down from 518 in July 2022 to 422 last month.
It is interesting to note, however, that new listings were also down in each category at about the same rate that sales volume was down.  Single-family home sales volume was down 28.2% last month, during which time the number of new listings was reported to be down 28.8%. Condo sales volume was down 18.5% last month, while new listings were down 15.4%.
The chart below shows active inventory since July 2020.
Median Sales Price of Single-Family Homes and Condos | July 2023
Source: Honolulu Board of REALTORS®, compiled from MLS data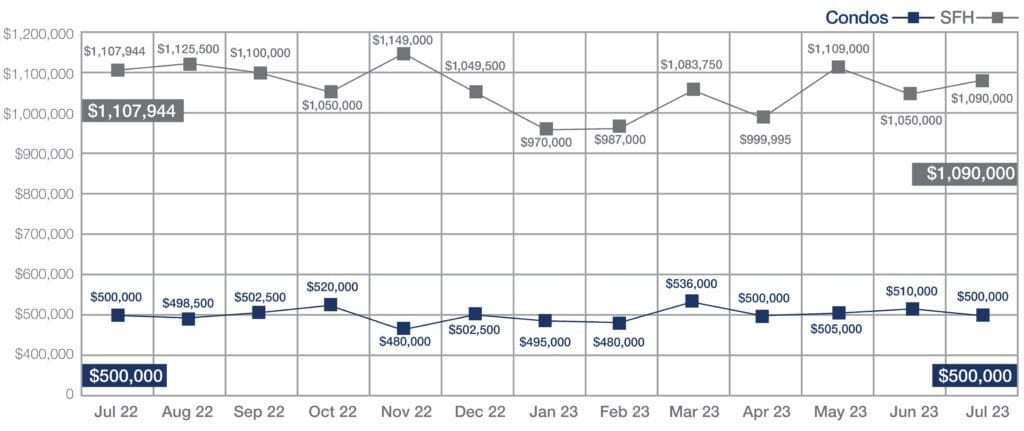 The median sales price of a single-family home dropped by 1.6% from a year ago, from $1,107,944 in July 2022 to $1,090,000 last month. The MSP of a condo in July 2022 was $500,000, and last month was unchanged at $500,000.
As you can see below, the monthly MSP since July 2020 is up slightly in both SF and Condos.
NEIGHBORHOOD MARKET STANDOUTS
Despite the slight dip in median prices in July, Oahu sales prices haven't changed significantly over the past year — and in some neighborhoods, the prices are up. This month's Market Spotlight showcases the single-family and condo neighborhoods where the MSP is higher than a year ago.
Median Sales Price
Single Family
June 2023
June 2022
Kapahulu-Diamond Head
$1,700,000
$1,365,000
North Shore
$1,610,000
$1,400,000
Waialae – Kahala
$2,205,000
$2,050,000
Windward Coast
$1,130,000
$1,050,000
Median Sales Price
Condos
June 2023
June 2022
Hawaii Kai
$840,000
$816,000
Kalihi – Palama
$422,500
$399,000
Makaha – Nanakuli
$264,500
$235,000
Makiki – Moiliili
$402,500
$400,000
Mililani
$570,000
$520,000
Moanalua – Salt Lake
$474,000
$440,000
Pearl City – Aiea
$535,000
$499,000
Waialae-Kahala
$659,000
$532,500
For an up-to-date market analysis of your property, contact Coldwell Banker Realty today. We are happy to provide you with a current valuation on your home.
SOURCE: Honolulu Board of REALTORS®, compiled from MLS data.