While the effects of rising interest rates on home prices is ongoing, the market, in general, appears to have stabilized, as the summertime cycle kicks off.
The median sales price for both single-family homes and condos were modestly down, to $1,050,000 and $510,000, respectively. The number of days on the market remains relatively quick, with most properties entering a contract in just over two weeks. And approximately 26% of single-family sales are still closing for more than the original asking price.
While nationwide, closed sales volume is down significantly, Lawrence Yun, National Association of Realtors® chief economist, points out that with a much-reduced inventory of homes for sale, it makes sense that the number of closed sales will also be reduced.
"Available inventory strongly impacts home sales," says Yun. "Newly constructed homes (nationwide) are (currently) selling at a pace reminiscent of pre-pandemic times because of abundant inventory in that sector. However, existing-home sales activity is down sizably due to the current supply being roughly half of the level of 2019."
Looking at Oahu's supply or "active listings" versus closed sales in June 2019 compared to June 2023, it is no surprise that last month's sales volume is down. In fact, it's noteworthy that a much higher percentage of the available inventory was sold last month, as compared to 2019. In June 2019, there were 1,588 "active listings" generating 327 sales — or 21% of the listings were converted to sales that year. In contrast, in June 2023 (last month), there were only 605 "active listings," — less than half the 2019 inventory — yet resulted in 248 sales — or 41% of the listings were converted to sales.
"This comparison not only illustrates well, the basic laws of supply and demand — how reductions in supply will increase demand. But also, it may point to how, while current closed sales figures are significantly down from June 2022, when you look at "closed sales" as a percentage of "active listings," the ratios are actually somewhat encouraging," says Mike James, president of Coldwell Banker Realty. "Despite interest rates rising, a larger percentage of homes for sale are selling today than were in the summer of 2019 — before COVID and when interest rates were still in record-low territory."
As is true in any market cycle, it's essential to remember that real estate is local. Oahu offers a wide variety of neighborhood characteristics, which can affect property values — including proximity to downtown, incredible vacation-like views and frontage, neighborhood amenities, and even dramatic variations in weather depending on where you are on the island. In some communities, even one side of the street may command a higher price than the other side. To get an accurate, up-to-date analysis of a neighborhood or specific property's value, it is always best to consult with the pros — the real estate professionals at Coldwell Banker Realty.
Sales of Single-Family Homes and Condos | June 2023
Source: Honolulu Board of REALTORS®, compiled from MLS data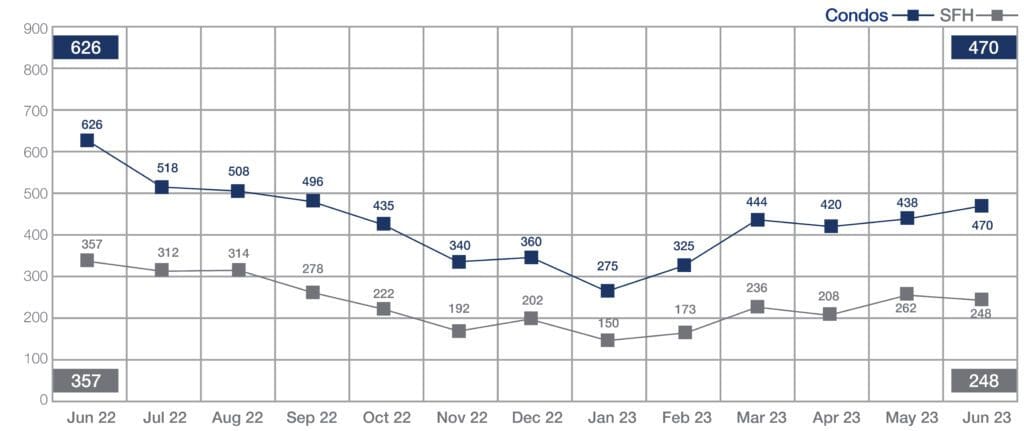 In most respects, statistics provided by the Honolulu Board of Realtors® offer a comparison of basic market indicators within an annual frame of reference to define the current market. But since 2020, the pandemic unleashed an unusual set of circumstances that severely reduced the inventory to levels that today appear "normal."
Severely impoverished inventory levels, however, affect home sales, as the chief economist at the National Association of Realtor® explains, above. It makes sense, when it's pointed out that when there are 1,588 homes for sale in 2019 — more than two-and-a-half-times the number of homes for sale last month — there will be a lot more homes sold.
So, with that in mind, here is the breakdown of closed sales last month compared to June 2022.
Last month, single-family home closed sales dropped 30.5%, and condo sales were down 24.9% last month, compared to June last year. Year-to-date, those percentages are down 34.6% and 35.8%, respectively.
Median Sales Price of Single-Family Homes and Condos | June 2023
Source: Honolulu Board of REALTORS®, compiled from MLS data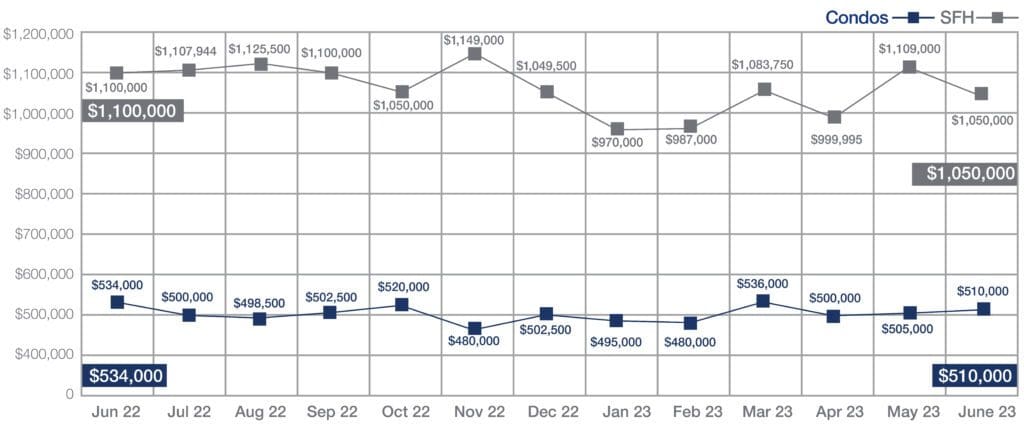 Little has changed in the way of prices since last year. Last month, the median sales price of a single-family home was $1,050,000 — down 4.5% from June 2022, when the MSP was $1,100,000. The MSP for a condo last month was $510,000 — down 4.5% from $534,000 in June 2022.
Notably, during the first half of 2023, prices have leveled off from the rapid rise seen through 2021 and the first half of 2022. Year-to-date figures show the MSP of a SF home stands today at $1,050,000, down 5.5% from the 2022 MSP of $1,111,211. The same holds true for condo prices. Year-to-date condo figures show the MSP at $500,000, down from $515,000 this time last year. Variations up and down, especially after the sales bonanza from the previous two years, are an indication of a return to a more normal cycle.
NEIGHBORHOOD MARKET STANDOUTS
Despite the slight dip in median prices in June, for Oahu sales prices haven't changed significantly in the past year — and in some neighborhoods, the prices are up. This month's Market Spotlight showcases the single-family and condo neighborhoods where the MSP is up from a year ago (or stayed the same).
| | | |
| --- | --- | --- |
| Single Family | Median Sales Price in May 2023 | May 2022 |
| Hawaii Kai | $1,600,000 | $1,485,000 |
| Kailua – Waimanalo | $1,650,000 | $1,620,000 |
| Kapahulu-Diamond Head | $1,200,000 | $1,200,000 |
| Makakilo | $1,020,000 | $922,500 |
| Wahiawa | $950,000 | $942,500 |
| Waialae – Kahala | $3,250,000 | $3,220,000 |
| | | |
| --- | --- | --- |
| Condos | Median Sales Price in May 2023 | May 2022 |
| Kapahulu-Diamond Head | $1,000,000 | $650,000 |
| Makaha – Nanakuli | $312,500 | $257,500 |
| Makiki – Moiliili | $415,000 | $399,500 |
| Moanalua – Salt Lake | $451,000 | $442,500 |
| Wahiawa | $337,000 | $285,000 |
| Waialae-Kahala | $605,000 | $375,000 |
| Waipahu | $541,000 | $530,000 |
For an up-to-date market analysis of your property, contact Coldwell Banker Realty today. We are happy to provide you with a current valuation on your home.
SOURCE: Honolulu Board of REALTORS®, compiled from MLS data.