Oahu's single-family home market showed signs of cooling in May, according to the Honolulu Board of Realtors®, with closed sales volume dropping 15.1%, while active inventory jumped significantly.
"As interest rates and median sales prices rise, the question of what families can afford is clearly impacting market dynamics," says Chad Takesue, president of the HBR. "We see this reflected in the active inventory of single-family homes, which rose 39.8% from a year ago. Though we're still lagging behind pre-pandemic levels, this increase in much-needed inventory gives prospective buyers more options to choose from across the various price points."
According to Realtor.com, rising inventory was a nationwide trend last month, where the number of homes for sale in May 2022 increased for the first time since June 2019 across 42 of the 50 largest metrics in the country, compared to last year.
While the increase supply (inventory) is a good thing for buyers, rising mortgage interest rates will take a bite out of their buying power. In addition, rising rates may make it challenging for some buyers to qualify for a loan large enough to meet the rising sales prices — a dynamic that may be the root cause of the month's reported plunge in SF sales volume.
However, several indicators remain positive as the summer selling season is in full swing. Prices continue to set new records in both single-family and condo segments. Sales are still closing above the original asking price in May — 217 single-family homes and 313 condos sold for more than the original asking price, representing 63% of SF sales and 45.5% of condo sales.
"Both markets continue to experience two trends: properties selling at near-record pace of fewer than two weeks and buyers bidding over the asking price to secure their desired property," added Takesue.
And while SF closed sales were down and inventory soared, May condo sales were up 15.1%, and inventory was down 4.5%.
"Buyers now have more choices and time to find the home of their dreams — a silver lining that many will welcome," says Mike James, president of Coldwell Banker Realty. "Rising interest rates is definitely an influencer in today's market, as less people are qualified to buy homes, especially in the starter-home market. But, there is still a lot of money in the market and foreign buyers are coming back."
Sales of Single-Family Homes and Condos | May 2022
Source: Honolulu Board of REALTORS®, compiled from MLS data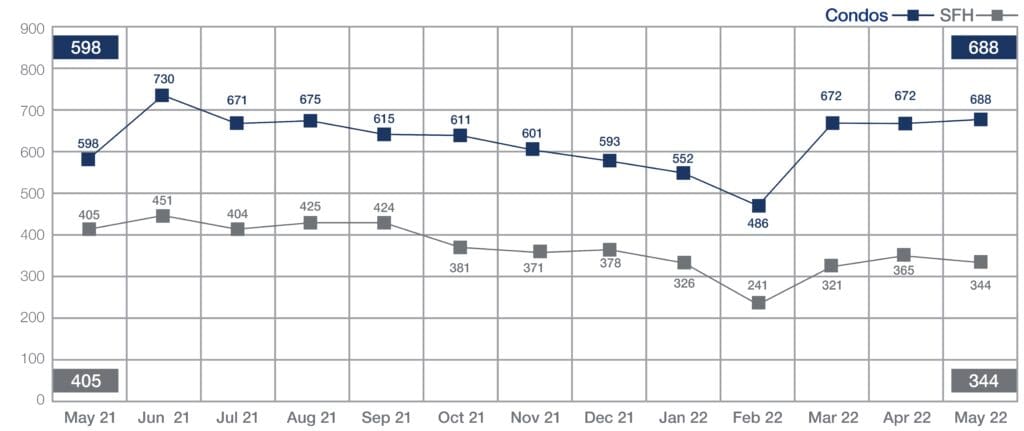 Single-family sales volume dropped 15.1%, while condo sales picked up with volume rising 15.1% — as if a segment of SF buyers are taking a step back and shifting to condos.
For months, severely low inventory and accompanying bidding wars have defined the soaring prices on Oahu. If those high prices hold, and with more upticks in interest rates, some buyers may shift their focus to condos as the more affordable option.
There were 344 single-family closed sales in May, down from 405 in May 2021. Year-to-date, SF home closings are down 5.6%, from 1,692 homes that closed in May 2021 to 1,597 last month.
In the condo market, 688 units closed in May, up from 598 in May 2021. And Year-to-date, closed sales are up 13.4%, from 2,707 in May 2021 to 3,070 last month.
The most significant decline in sales was in the single-family homes priced between $600,000 and $999,999 — volume is down 41.2% from a year ago. While most regions across Oahu experienced a dip in sales, the Central region of Mililani and Wahiawa ended the month on a high note with a 61.9% increase in sales.
Condos in the affordable price range of $300,000 to $599,999 represented 48% of the closed sales in May, with a volume increase of 13.4% from a year ago. Condo sales in the $700,000 to $899,999 range more than doubled, compared to May 2021, representing 17.6% of May's closings. The Metro region accounted for the most significant increase in condo sales, up 21.9%, while the Ewa Plain reported a decline in sales by 20.3%.
Median Sales Price of Single-Family Homes and Condos | May 2022
Source: Honolulu Board of REALTORS®, compiled from MLS data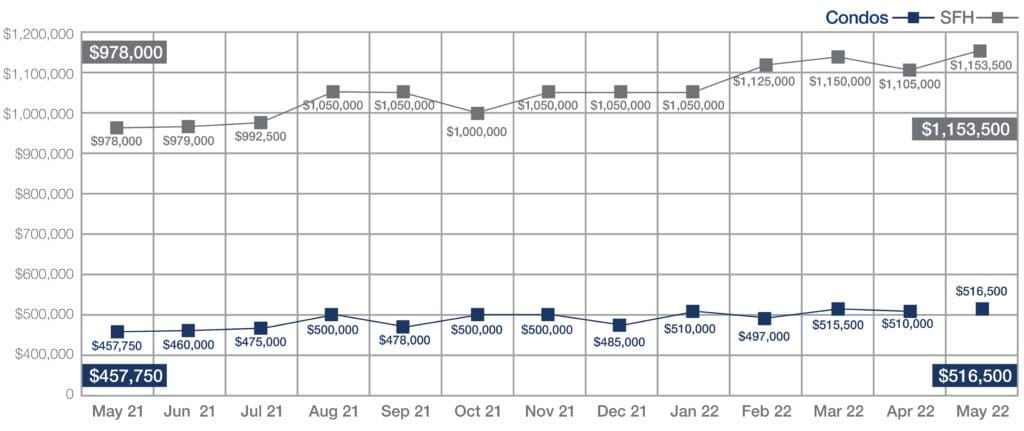 Both market segments reported sales prices continued upward, setting new records, with single-family homes reaching an MSP of $1,153,500 and condos hitting $516,500.
The median sales price for a single-family home on Oahu was up 17.9% from a year ago, when the MSP was $978,000. Year-to-date, the median price was still under $1 million after the first five months of 2021 — at $935,000. In 2022, it is up 19.3% to $1,115,000.
Condo prices are up 12.8% in May, from $457,750 in May 2021. Year-to-date, the median sales price of a condo is up 12.3% — from $454,000 to $510,000.
NEIGHBORHOOD MARKET STANDOUTS
Below is the April 2022 median sales price data, compared to the month prior, for neighborhoods where SF prices are available near or below MSP of $1 million and condos below $500,000.
| | | |
| --- | --- | --- |
| SF | MSP April 2022 | MSP March 2022 |
| Ewa Plain | $950,000 | $935,000 |
| Kalihi- Palama | $1,050,000 | $985,000 |
| Makaha – Nanakuli | $745,000 | $739,000 |
| Makakilo | $1,240,000 | $990,000 |
| Wahiawa | $888,000 | $950,000 |
| Waipahu | $960,000 | $950,000 |
| | | |
| --- | --- | --- |
| Condos | MSP April 2022 | MSP March 2022 |
| Kalihi – Palama | $395,000 | $415,000 |
| Makaha – Nanakuli | $283,500 | $225,000 |
| Makiki – Moiliili | $418,000 | $426,500 |
| Moanalua – Salt Lake | $435,250 | $470,000 |
| Pearl City – Aiea | $455,000 | $480,000 |
| Wahiawa | $162,500 | $260,000 |
| Waikiki | $460,000 | $442,500 |
| Windward Coast | $420,000 | $465,000 |
To find out the MSP for your neighborhood, ask your Coldwell Banker Realtor®.
SOURCE: Honolulu Board of REALTORS®, compiled from MLS data.