Post-pandemic demand driving inventory levels to all-time lows. Prices rocketing to all-time highs. Asking prices left in the dust while sellers field multiple offers. And this isn't just happening here — the housing market has exploded nationwide.
The National Association of Realtors® reported the country's total housing inventory at the end of January was 860,000 units, down 2.3% from December, and an overall decrease of 16.5% from a year ago when there were 1.3 million units available for sale. In addition, unsold inventory sits at 1.6 months of supply at the current sales pace, also down from December and from January 2021.
Lawrence Yun, NAR's chief economist says, "The inventory of homes on the market remains woefully depleted, and in fact, is currently at an all-time low."
Locally, the Honolulu Board of Realtors® reports while the total inventory of single-family homes and condos on Oahu remains seriously depleted, new listings in February are increasing — up 14% in the single-family segment and up 18.6% in condos. This is some encouraging news for inventory-starved buyers, though single-family homes sales in the $899,000-and-below price range saw the most significant decline, down 54%.
And while condo sales are outperforming single-family home sales, sparse inventory sustained demand in February and drove the median sales price SF home to a new record high of $1,125,500 — up 22.6% higher than a year ago, and 7.1% higher than the previous record of $1,050,000 set in August 2021.
Competition for listings remains relentless. HBR reports 55.2% of single-family homes closed above the original asking price, with most over-asking-price transactions occurring in the $800,000 to $999,999 price range. The condo market experienced a similar trend — 37% closed above the original asking price, with most in the $400,000 to $699,999 range.
Mike James, president of Coldwell Banker Realty points out, "On the upside, new listings of single-family homes increased most prevalently in Hawaii Kai, Ewa Plain, and Kailua — increasing 150%, 50%, and 44%, respectively. Condos in the Metro area recorded the most significant jump in new listings, up 25.8%."
Sales of Single-Family Homes and Condos | February 2022
Source: Honolulu Board of REALTORS®, compiled from MLS data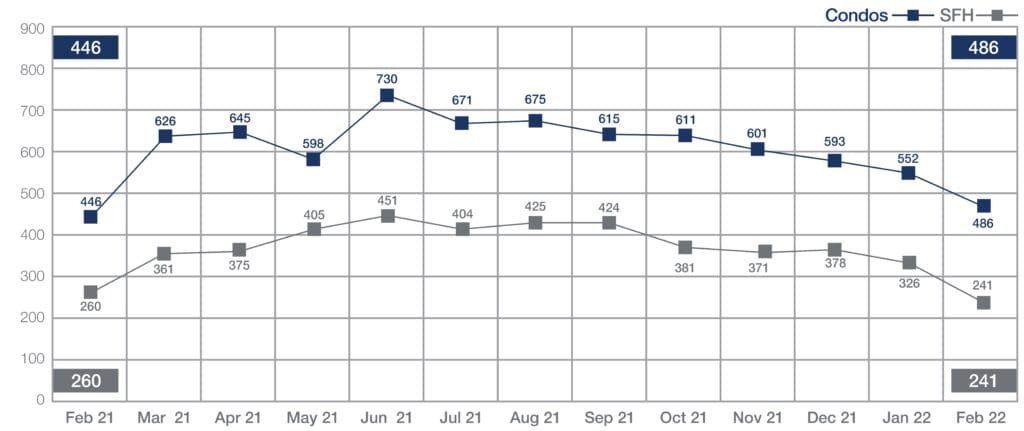 The number of closed sales through the first two months of 2022 outpaced last year, increasing 2.9% for single-family homes and 23.9% for condos.
In February, 241 single-family home sales closed, 7.3% less than February 2021 when 260 homes closed. Condo sales is up 9.0%, with 486 condos closed, compared to 446 closings a year ago.
Year-to-date, single-family sales increased slightly from 551 at the end of February 2021, to 567 for the same period this year. Condo sales were significantly higher — rising from 838 closed sales in January/February 2021 to 1,038, continuing to mark 15 consecutive months with positive year-over-year sales growth. Condos in the $500,000-and-above bracket accounted for most sales increases — up 28.2%.
Of note, luxury condominium sales soared in January, recording triple-digit increases in volume in all price ranges. The strongest sector, $2-to-$2.99-million range, was up 167% with eight sales compared to three in January 2021.
Median Sales Price of Single-Family Homes and Condos | February 2022
Source: Honolulu Board of REALTORS®, compiled from MLS data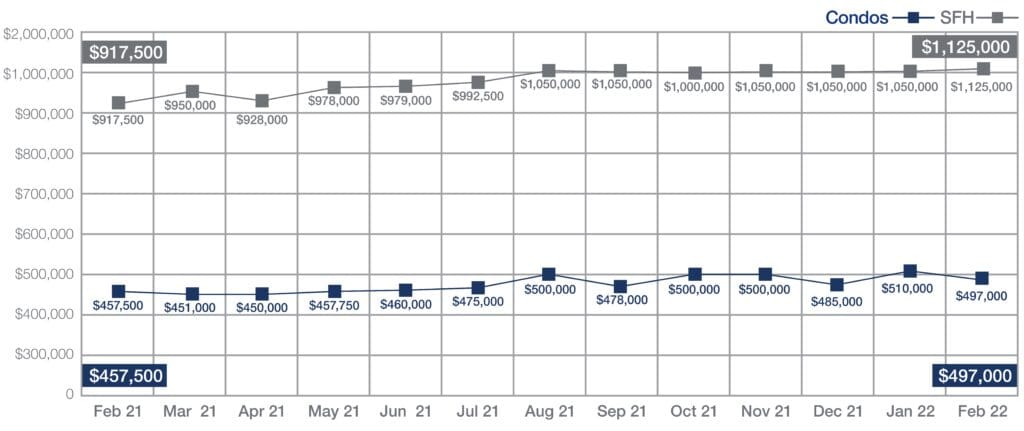 In February, the MSP of a single-family home was up 22.6% over February 2021 to a new record of $1,125,000. Condos were up as well — 8.6% — from a year ago, to $497,000, missing the record high of $510,000 set last month. Both segments are on a steady upward trajectory and likely pulled up by more activity in the luxury home market.
As median sales and list prices rise, more homes and condos push up into the million-dollar-plus territory. Sales of luxury homes priced $2-million-and-above increased 52% in January 2022, compared to January 2021, according to MLS data gathered by Coldwell Banker Realty. Thirty-five luxury homes sold in January, compared to 23 in January 2021. The most impressive increase was in the $4-million-and-above range, which was up 450% (11 sales compared to 2 a year ago).
The median sales price for luxury homes was $3.065 million, a 14% increase from last year, based on all SF homes and condos selling for $2 million plus during January 2021 and January 2022 on Oahu (not including new development sales). Surging luxury sales effectively "tip the scales" for overall MSP increases.
NEIGHBORHOOD MARKET STANDOUTS
Prices are rising, even in neighborhoods historically-thought to be more affordable. Below is the January 2022 median sales price data for neighborhoods where SF prices are available below MSP of $1 million and condos below $500,000.
| | |
| --- | --- |
| Single Family | MSP January 2022 |
| Ewa Plain | $920,000 |
| Kalihi – Palama | $870,000 |
| Makaha – Nanakuli | $720,000 |
| Makakilo | $994,000 |
| Wahiawa | $925,000 |
| Waipahu | $840,000 |
| | |
| --- | --- |
| Condos/Townhomes | MSP January 2022 |
| Kalihi – Palama | $470,000 |
| Makaha – Nanakuli | $237,500 |
| Makiki – Moiliili | $396,250 |
| Moanalua – Salt Lake | $441,000 |
| Pearl City – Aiea | $459,000 |
| Wahiawa | $132,000 |
| Waikiki | $424,000 |
| Waipahu | $490,000 |
To find out the MSP for your neighborhood, ask your Coldwell Banker Realtor®.
SOURCE: Honolulu Board of REALTORS®, compiled from MLS data.