November condo sales outpaced single-family home sales — with closed condo sales soaring 47.7%, compared to November 2020. In addition to the boom sales volume, the condo market set a new record low median days on the market of nine days. Buyers scooped up condos and townhomes an entire week faster than November 2020, when the median was 16 days.
"As prices rise, some buyers have turned to townhomes or condos to find their next home," says Kalama Kim, principal broker at Coldwell Banker Realty.
Condos within the more affordable price points of $400,000 to $499,999 accounted for the most sales volume — nearly 18% in November, or 109 sales. However, almost all price points in the condo market experienced a positive bump in sales volume, with the most growth occurring in the $600,000 to $699,999 range — a staggering 182.8% increase.
Locally, low inventory and low interest rates continue to spark bidding wars and push prices upward. As a result, competition is challenging buyers to look for innovative ways to shop and buy.
"Home sales remain resilient, despite low inventory and increasing affordability challenges," says Lawrence Yun, chief economist at the National Association of Realtors. "Inflationary pressures, such as fast-rising rents and increasing consumer prices, may have some prospective buyers seeking the protection of a fixed, consistent mortgage payment."
Despite affordability pressure, there still remains a path for Oahu's entry-level buyers. "First-time buyers are still able to purchase a property if they are persistent and determined," says Mike James, president of Coldwell Banker Realty. "While they may have their offer rejected numerous times, persistence pays off."
Tips for buyers include staying the course, especially now.
"Every December, multitudes of buyers put their search on hold for the holidays," says Kim. "A buyer may want to consider continuing their search during this time as they may have less competition."
James adds, "In today's market, buyers are commonly including clauses in their contract to make their offer more attractive, including appraisal waiver clauses, assurances that buyers will not request repairs, or paying fees normally charged to the seller."
Want the inside track? Working with an experienced Realtor® is key.
"It's evident that Oahu buyers are entering the market well-prepared and are wasting no time, working with their Realtors® to get their offers submitted and accepted as soon as possible," says Shannon Heaven, president of the Honolulu Board of Realtors. "Additionally, a large portion of sellers are receiving bids above their original list prices, which tells us that we remain in a competitive market despite the expected holiday lull."
Sales of Single-Family Homes and Condos | November 2021
Source: Honolulu Board of REALTORS®, compiled from MLS data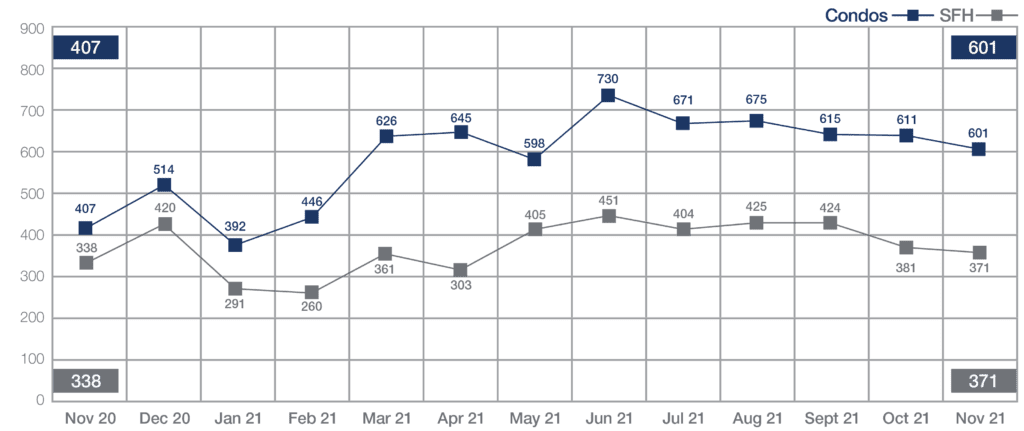 While still robust, closed sales activity for single-family homes lags behind the condo segment, with SF properties marking a 9.8% increase in sales compared to the 47.7% jump in condo sales from November a year ago.
Interestingly, condo closed sales, year-to-date, have surged 57.7%.
Since April, condo sales volume has grown by 20% or more each month. However, in November 2020, condo sales volume were down 0.7%.
Single-family homes sales volume doubled in the $1 million to $1.2 segment, and the $2 million and above ranges gained 118.2% and 114.3% hikes in sales, respectively.
November marks the 12th consecutive month of increases in closed sales in both market segments.
Median Sales Price of Single-Family Homes and Condos | November 2021
Source: Honolulu Board of REALTORS®, compiled from MLS data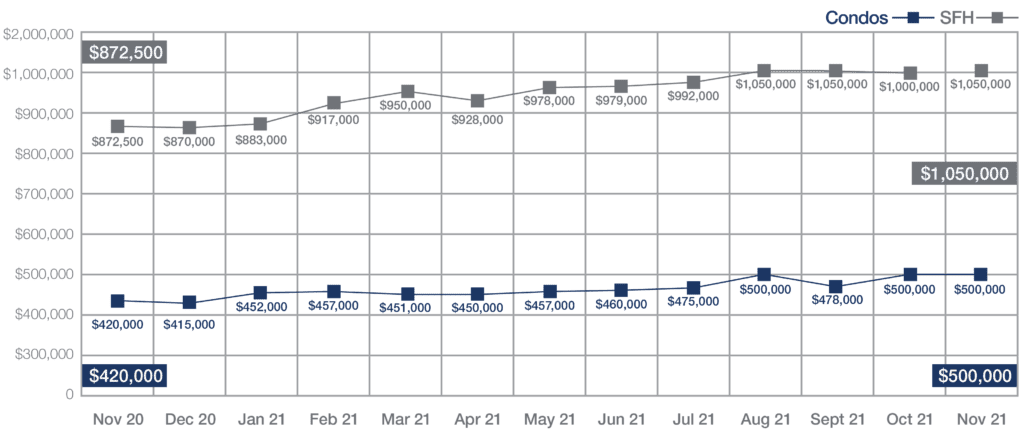 The median price for a single-family home on Oahu was up 20.3% in November — from $872,500 a year ago, to $1,050,000, a gain of $177,500. Year-to-date, the MSP is $985,000, a gain of 19.8%.
Condo MSP are up 19% in November — from $420,000 in November 2020 to $500,000 last month. Year-to-date, the MSP is up 10.5%.
It is noteworthy that approximately 61% of single-family homes and 42% of condos sales closed for more than the asking price in November. Year-to-date stats show both segments have received 100% of the original list price or more every month since January.
NEIGHBORHOOD MARKET STANDOUTS
Some buyers may find the island's high MSP discouraging. Below are the neighborhoods where SF prices are available below MSP of $1 million and condos below $500,000.
| | |
| --- | --- |
| Single Family | MSP October 2021 |
| Ala Moana-Kakaako | $950,000 |
| Ewa Plain | $873,500 |
| Kalihi-Palama | $952,500 |
| Makaha-Nanakuli | $650,000 |
| Makakilo | $955,000 |
| Mililani | $965,000 |
| North Shore | $962,000 |
| Wahiawa | $800,000 |
| Waipahu | $880,500 |
| | |
| --- | --- |
| Condos |  MSP October 2021 |
| Kalihi – Palama | $386,500 |
| Makaha – Nanakuli | $235,000 |
| Makakilo | $496,050 |
| Makiki – Moiliili | $395,000 |
| Moanalua – Salt Lake | $407,000 |
| Wahiawa | $220,000 |
| Waikiki | $425,000 |
| Windward Coast | $290,025 |
To find out the MSP for your neighborhood, ask your Coldwell Banker Realtor®.
SOURCE: Honolulu Board of REALTORS®, compiled from MLS data.