The Fourth of July is the ultimate party fodder. What better excuse is there to doll up your backyard, invite over your friends and family, and celebrate our collective independence with food, fun, and fireworks?
The Fourth of July is the holiday to go all out, at least as far as the theme goes. Don't hold back now. Show your patriotism—all of it. Show it in food, show it in drinks. Definitely show it in décor. And keep it as casual as you want it to be. "Fourth of July party may be a casual affair—no need to serve an extravagant four-course meal or bring out the good china—but that doesn't mean you're limited to burgers, hot dogs, and plastic tablecloths," said Epicurious. "In fact, an Independence Day party means you can treat your family and friends to an exceptional meal and a fun, festive atmosphere without fussing over elaborate recipes or polishing the silver."
Want to know how to throw the ultimate Fourth of July party? Read on.
The Theme
Establishing a cohesive theme is key to any successful party. Thankfully, you don't have to look any further than the flag on this day. For the Fourth of July, it's America all the way. That means stars, stripes, red, white and blue. Even If you want to make sure everyone is as festive as they should be, specify the dress code on the star-spangled invite (a subtle threat such as "no festive dress, no festive beverage" should be enough to entice them to break out some colorful duds.). For a fun twist on the traditional, go nautical by adding details like ropes, anchors, twine and ship wheels, as seen on Hostess with the Mostess.
The Food
Barbecue is a favorite choice for the Fourth of July whether it's a casual hot dogs and burgers crowd or you're bringing out the big barbecue guns with ribs or grilled seafood. Experts recommend grilling as much as you can ahead of time so you won't be stuck behind the barbecue while the party is going on without you. For sides, you can't go wrong with a variety of salads, of the green, pasta, or potato variety (or, even better all of the above). And to make things truly festive, find ways to give traditional dishes a patriotic hue, like this take on bruschetta by Jehan Can Cook or this blueberry, strawberry and jicama salsa from Two Peas & Their Pod.
For a celebratory and tasty desert, try Epicurious' Strawberry Angel Food Trifle, which "calls for frozen strawberries, but at the height of summer, it's better to use fresh, and if possible local, berries—you can even use a combination of strawberries and blueberries to give the dessert a more patriotic look," they said. "Using fresh berries doesn't change the recipe, though you will need to cook the fruit a bit longer."
The Drinks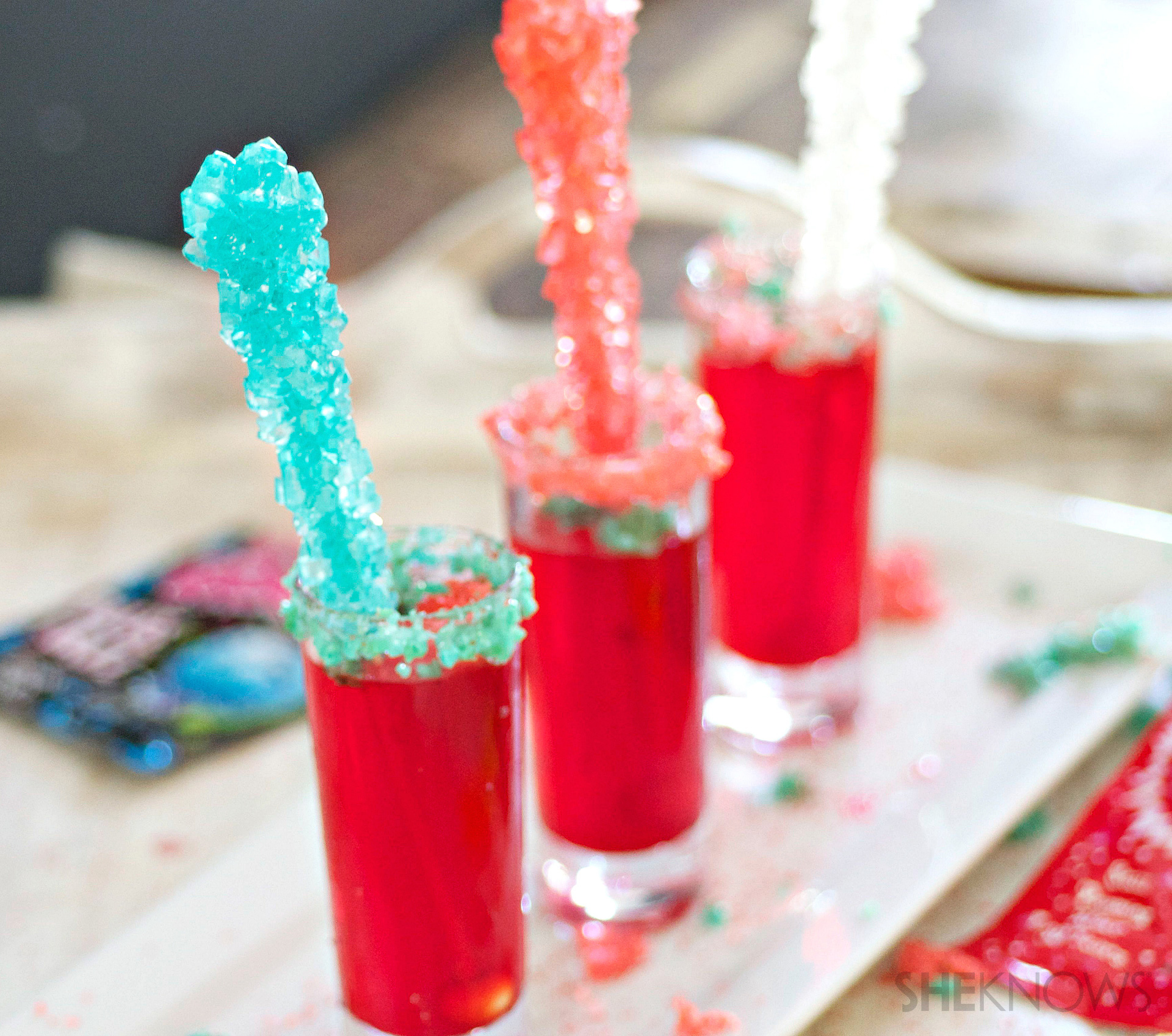 To quench your guests' thirst, keep it within your patriotic color theme and make watermelon the star. For the little ones: Food and Wine's watermelon strawberry agua fresca. For the adults: their watermelon sangria. If you feel the need to show your extreme bartending skills with a drink that takes patriotic to its pinnacle, you can throw in Pop Rocks Jell-O Shots from She Knows. The Pop Rocks make the drink fizzle and the rock candy looks like a fireworks display shooting out of the playful shooters.
The Décor
Flags, pinwheels, banners, hanging stars—if you want, every surface of your home or corner of your yard can be covered in Americana. If you want to use a lighter hand, choose a few key areas, said Lucky Magazine, "to achieve the right balance of decorations. A simple stars-and-stripes garland will set the mood, and you can stick to primary accent colors for the rest of your servingware," they said.
The Entertainment
Bring in a DJ or live band to play a mix of good 'ole country, rock & roll, or even Bluegrass, and you've got yourself a party. Prefer to play the tunes yourself? Check out Marie Claire's Ultimate Independence Day Party Playlist. If you're going to have kids at your party, try some fun patriotic crafts or bring in a face painter who can draw up patriotic themes on the kids and can help keep them entertained.
It's not a Fourth of July celebration without the requisite fireworks. If you don't live in an area where they'll be viewable overhead or within a reasonable distance, bring in sparklers and make some confetti balloons for the kids. "Satisfyingly loud and sparkly, these confetti-filled balloons are a fun alternative to fireworks," said Martha Stewart. "And unlike the real ones, these can be set off by kids — indoors! To make, pull a balloon over a funnel. Pour in confetti until balloon is a quarter full; inflate with a hand pump. Use a sharpened pencil for popping."