As Super Bowl Sunday approaches, football fans from around the country are gearing up in their patriotic red and blue, and their bright green and baby blue in support of their respective teams.
While many fans are divided by their love or hate for the New England Patriots or the Seattle Seahawks, one thing is certain—there is bound to be some eventful football parties packed with friends, food, drinks and plenty of team spirit to go around.
But before the big day, it's important to make sure that your home is football party ready. Sure a working TV, basket of chicken wings and cold beverages are all you really "need," but with a few simple improvements, you can create a touchdown worthy atmosphere.
Take at look at this enviable space in Honolulu for example.
For serious fans who don't want distractions, this home theater with large couches that you can sprawl out on, VIP seating and movie-theater lighting offers the ultimate viewing experience. This state of the art theater room has every cool feature you can imagine for the big game. So much so that you may even feel like you're a part of the action.
Guests that want to take things outdoors can help themselves to some nachos along with beautiful ocean views and of course, a giant TV for continuous Super Bowl coverage in the indoor/outdoor lounge that opens directly onto the lawn for football tossing during half time.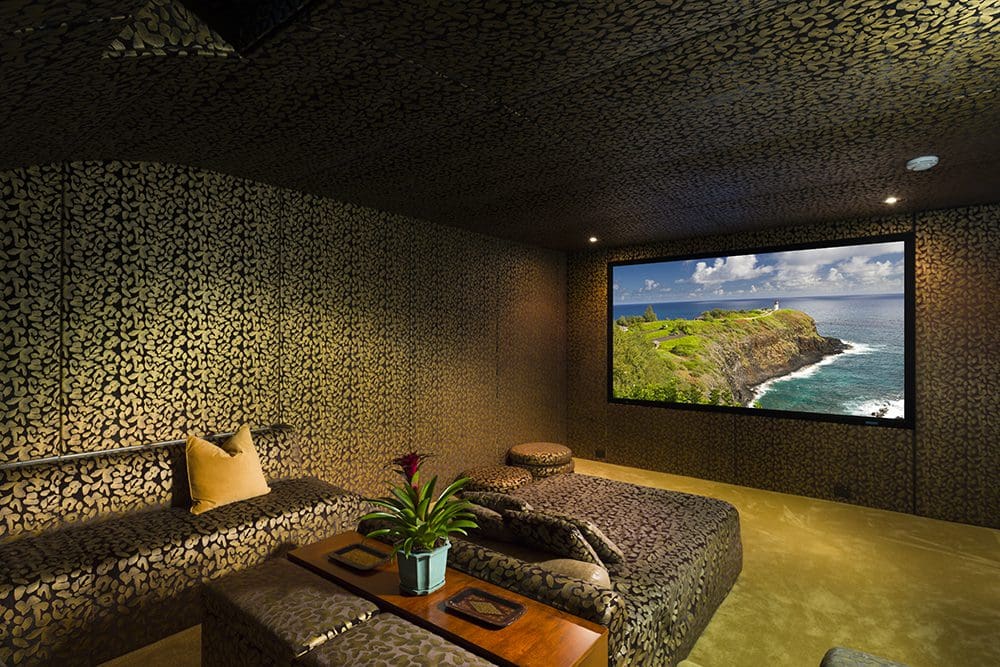 In addition to being game day ready, this extraordinary home located at 595 Kahiau Loop has been extensively renovated with quality materials and craftmanship down to the finest details. The superb kitchen is the ideal spot to whip up meals for any party – Super Bowl or otherwise – while multiple living areas provide the ultimate in luxurious island entertaining. The home even has it's own bar and game room. With – you guessed it – another TV. Not to mention the incredible views of the ocean and Diamond Head.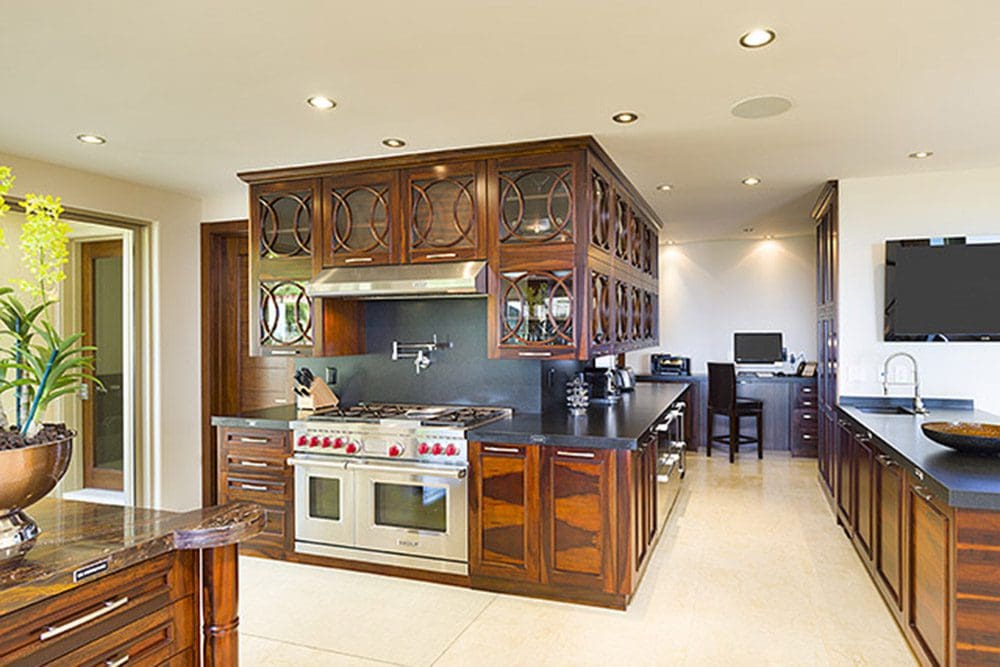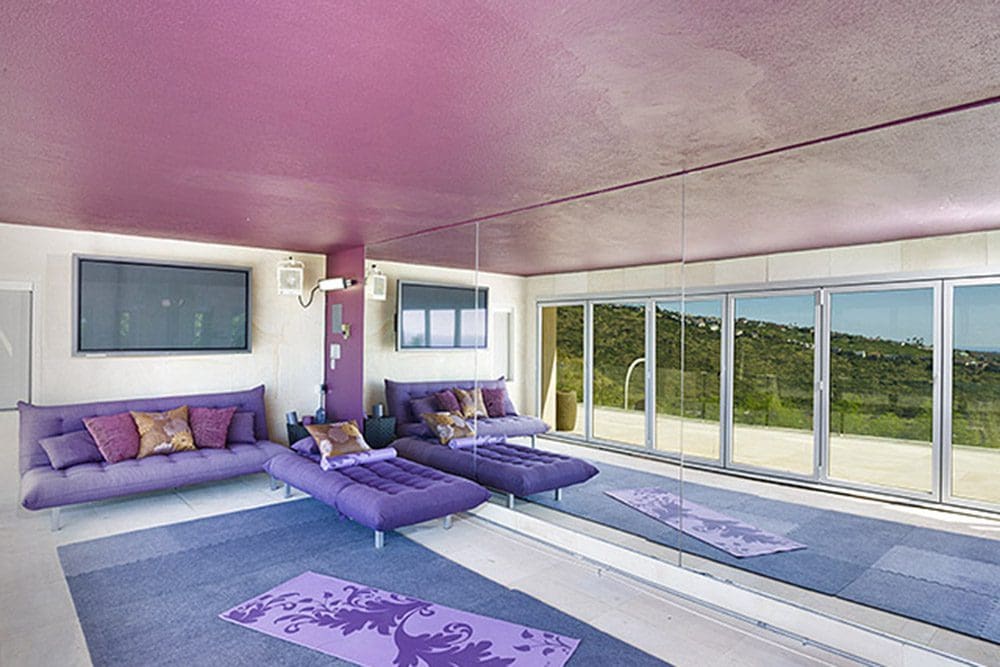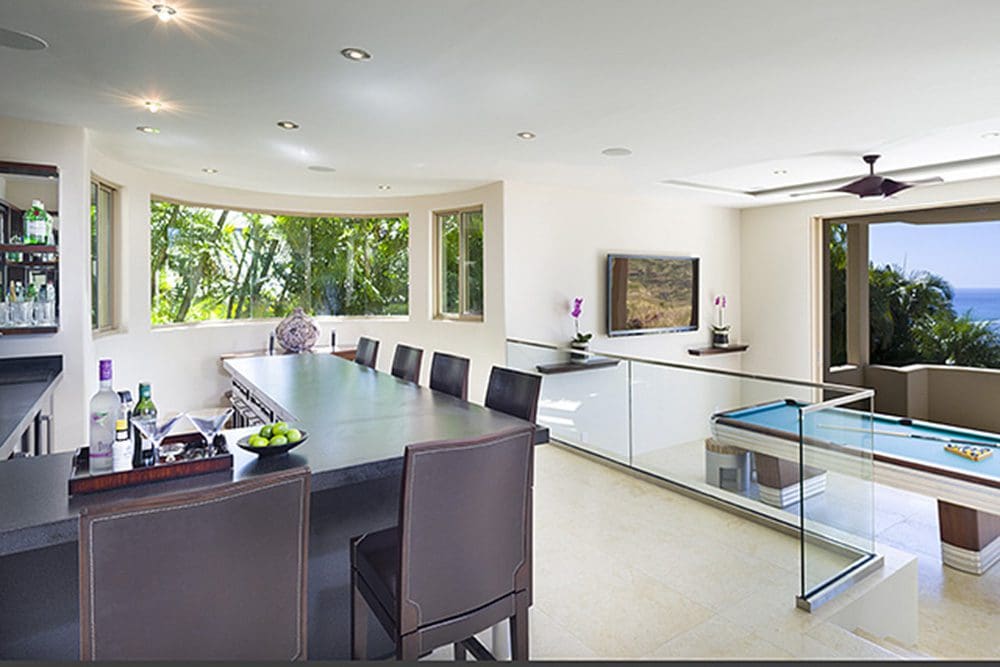 While not every home has this level of entertaining decadence in place, there's still time to transform your own pad into a football party paradise with a few simple tricks.
Here are a few ways to get started:
You Make the Calls—So Make it Comfy
If you regularly attend these games, you already know that fans are on the edge of their seats during most of the game. So make your Man Cave as comfy as possible by throwing out some beans bags on the floor, comfy pillows (with your team's logo, of course) and cushiony chairs (bonus points for integrated speakers). Remember that while state of the art theater seating is nice, comfy is necessary.
Snacks are Everything
No Super Bowl is complete without an all-inclusive buffet. If you're tired of making the same old recipes every year, find some inspiration from Pinterest. You can wow your guests by making a buffalo chicken cupcake with hot sauce and blue cheese or keep things more traditional with some delicious sliders. If you enjoy baking, this food color guide is a must. The experts in the McCormick kitchens have created the perfect dye mix for turning canned white frosting into the perfect team-colored topper for spirited game day treats, customized for every city coast to coast. You can find tons more gameday-approved recipes here.
Experience the Game Front Row
There's no better feeling than being front row at the games. And if you want to be able to catch all of the plays while you're making your guests drinks and re-filling food platters, it might be a good idea to invest in a Super Bowl worthy TV. Check out CNN's recommendations here. If you'd rather amp up the rest of your Man Cave make sure to line up seating around the TV for an all-inclusive experience.
Get the Party Going
Last but certainly not least, any football player will tell you it's important to stay hydrated during the game, so make sure to offer your guests plenty of drink options. Along with your favorite beer (go for a local craft brew), try thinking up some fun pre-game drinks like these layered Jell-O shots that incorporate your team's colors or these fun team cocktails that will please both Seahawks fans and Patriots fans alike.
Is your home ready for the big game? Share some of your ideas with us in the comments section below!