When island properties were attracting dozens of prospective buyers, spawning bidding wars and contracts above the asking price at (or before) the first open house, there was little need to offer incentives to entice qualified buyers. But today, with mortgage interest rates in the mid-6% range sidelining some buyers, astute sellers are dusting off tried-and-true strategies to sweeten the pot and give their listings the extra edge over the competition.
Naturally, in a sluggish market, a price reduction is a typical, traditional, and often effective go-to enticement — but not always the right one. Perhaps a buyer is struggling with down-payment money or short on cash for closing. Why not offer some concessions upfront, and in lieu, possibly, of a price reduction? Maybe offer to pay those closing costs or set cash credit aside at escrow for such costs or agree-upon repairs.
Suppose the mortgage interest rate is the roadblock to qualifying. In that case, sellers can offer to buy down the interest rate, effectively lowering the monthly payment for the buyer, and possibly enabling them to qualify. Or offer seller financing. Maybe a seller can offer a more doable interest rate. A buyer may even agree to pay a little more for the home, if the monthly payments were lower and more affordable.
Instead of replacing old appliances, seller can save money by purchasing a Home Warranty Plan, giving the buyer peace of mind that they won't need to replace any of the covered components for the first year. And buyers, if you don't see any of these incentives being volunteered, your Coldwell Banker agent can include them with your offer. Get creative. Sellers want to sell. Buyers want to buy. Incentives can make it happen.
According to the Honolulu Board of Realtors®, the median price of a single-family home on Oahu has dipped under $1 million for the second consecutive month after 17 months of hitting that benchmark.  But the sagging prices are at least in part attributed to the drops of sales of the million-dollar-plus categories. For example, in February, single-family sales volume in the $1 million to $1.5 million segment was down nearly 50%, from 84 such sales in February 2022 to 43 last month. In the $1.5 million to $2 million segment, sales plummeted 62.9% — from 35 homes in that price range that closed in February 2022, to only 13 last month. Statistically, that drop alone in activity takes a significant bite out of the overall median sale price — the dollar point where half the sold homes closed for more, and half the homes sold for less.
Even more interesting is even with the unprecedented drop in the high-end sales, volume in the $600,000 to $700,000 range was up, as well as in the $700,000 to $800,000 range — significant increases of 12.5% and 40%, respectively.
Median days on the market for a single-family home jumped from 13 days in February 2022 to 47 days last month — up a whopping 261% longer. For condos, the median-days-on-market stat is up to 28 days from 14 a year ago.
"Bringing back buyer and seller incentives is a great way to offset higher monthly payments for buyers or lowering asking prices for sellers, and is a win-win for both sides," says Mike James, president of Coldwell Banker Realty.
"And the extra days on the market allow for extra negotiating time. By using all the tools in the toolbox, folks can still be successful in today's market — and that's what our agents can help them do."
Sales of Single-Family Homes and Condos | February 2023
Source: Honolulu Board of REALTORS®, compiled from MLS data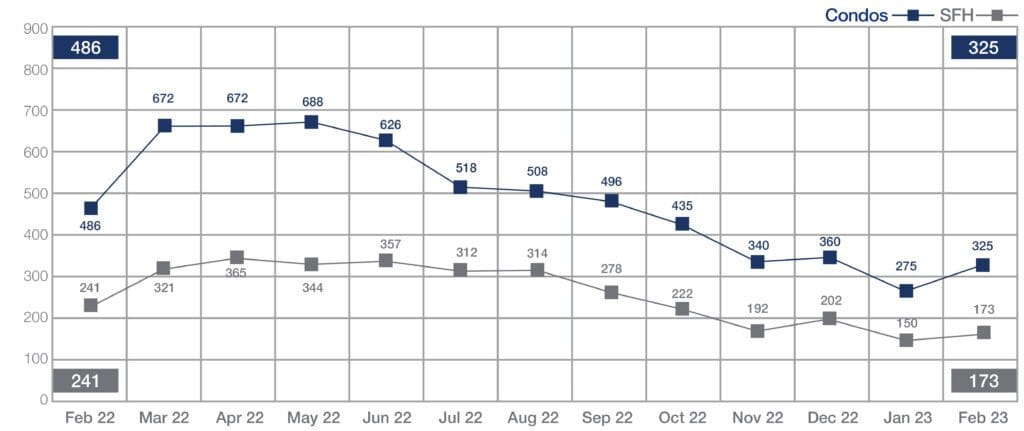 The number of closed sales on Oahu in February continue to drop from a year ago. Single-family homes fell 28.2% — from 241 homes that closed in February 2022 to 173 last month. Condo volume was down 33.1% — from 486 a year ago to 325 closings last month.
Across Oahu, nearly all the designated regions experienced dramatic drops in single-family home sales volume except Aina Haina-Kuliouou, where the sales volume was up 20%. Most regions recorded 50% declines in volume or more, with Mililani and Moanalua-Salt Lake reporting the most notable decrease of 88% and 80%, respectively.
In the condo market, with the bulk of sales occurring in Waikiki, island-wide volume dropped 40%, compared to February 2022. Wahiawa and Hawaii Kai reported the most significant decline in sales volume last month, at 75% and 74%, respectively.
Median Sales Price of Single-Family Homes and Condos | February 2023
Source: Honolulu Board of REALTORS®, compiled from MLS data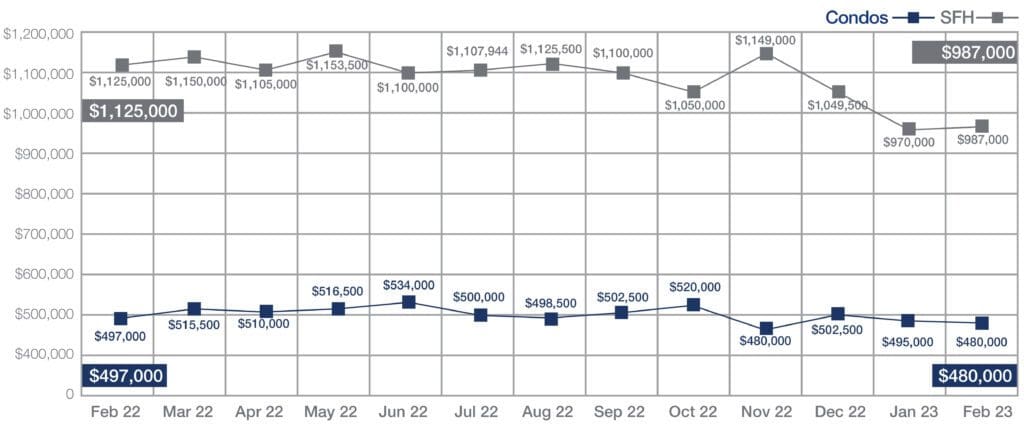 The median price of a single-family home in February is down 12.3% — from $1,125,000 in February 2022 to $987,000 last month. As noted, the impact of 62 fewer homes in the $1 million-and-up category that sold in February — from 147 million-dollar homes that sold in February 2022 to 85 last month — is significant and most certainly took a bite out of the overall MSP figure.
Condo median prices declined by a modest 3.4%, from $497,000 in February 2022 to $480,000 last month. As with single-family homes, there was a significant drop in the higher-end condos — $600,000 and up. There were 175 high-end condos that closed in February 2022, versus 96 last month. With so fewer closings in the higher end, the MSP will inevitably be lower.
NEIGHBORHOOD MARKET STANDOUTS
While prices are generally down thus far in 2023 when compared to 2022, some neighborhoods experienced Median Sales Prices up from a year ago. For an analysis of what's happening in your neighborhood, contact your real estate professional at Coldwell Banker Realty.
| | | |
| --- | --- | --- |
| Single-Family | MSP Jan. 2023 | MSP Jan. 2022     |
| Aina Haina-Kuliouou | $2,294,000 | $1,350,000 |
| Kalihi-Palama | $927,500 | $870,000 |
| Waipahu | $935,000 | $840,000 |
| | | |
| --- | --- | --- |
| Condos | MSP Jan. 2023 | MSP Jan. 2022     |
| Downtown/Nuuanu | $670,000 | $505,000 |
| Kaneohe | $752,500 | $712,500 |
| Moanalua-Salt Lake | $445,000 | $441,000 |
| North Shore | $1,135,000 | $850,000 |
| Pearl City-Aiea | $497,000 | $459,000 |
| Wahiawa | $252,000 | $132,000 |
| Waipahu | $510,000 | $490,000 |
To find out the MSP for your neighborhood, ask your Coldwell Banker Realtor®.
SOURCE: Honolulu Board of REALTORS®, compiled from MLS data.