Built at the base of Diamond Head, tucked between the crater and Kapiolani Park in an exclusive population of multi-million dollar homes, is this Diamond Head Hideaway, originally built in the 1930s.
Beautiful in its architectural details — decorative windows, ornate facades and elaborate workmanship — stepping into this home and its lush surroundings takes us on an evocative journey to years past when life was simpler, more genteel, and when houses were elegantly designed and workmanship was an art form. One can't help but wonder who may have lived here and what stories they might have to tell.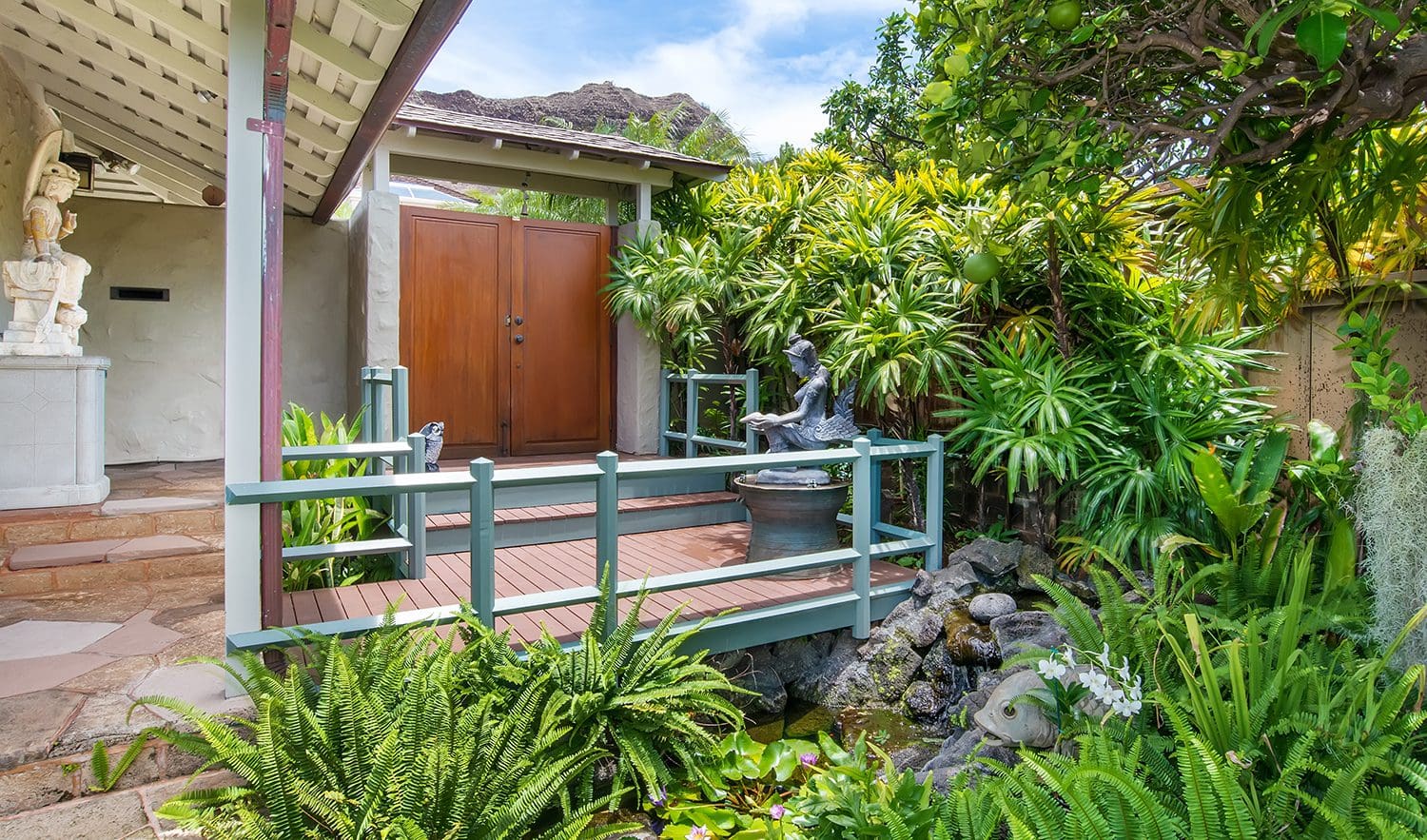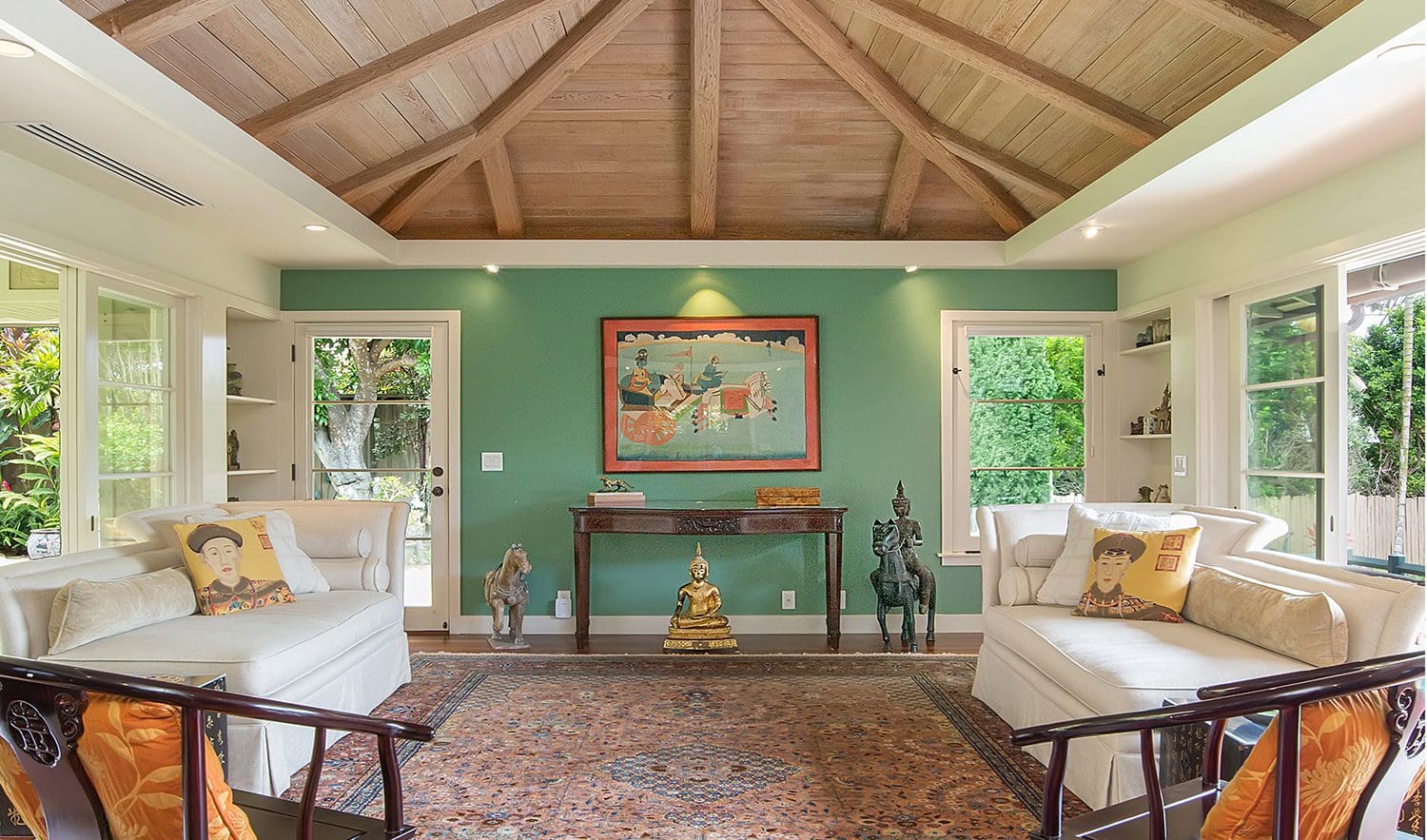 While the interior retains its circa 1938 charm, the kitchen and baths have been fully modernized. The island kitchen features double ovens, natural stone countertops, and beautiful cabinetry, yet includes classic glass door curio-style cabinets in tune with the original architectural style. Ipe hardwood floors add richness to the traditional feel and also provide years of durability.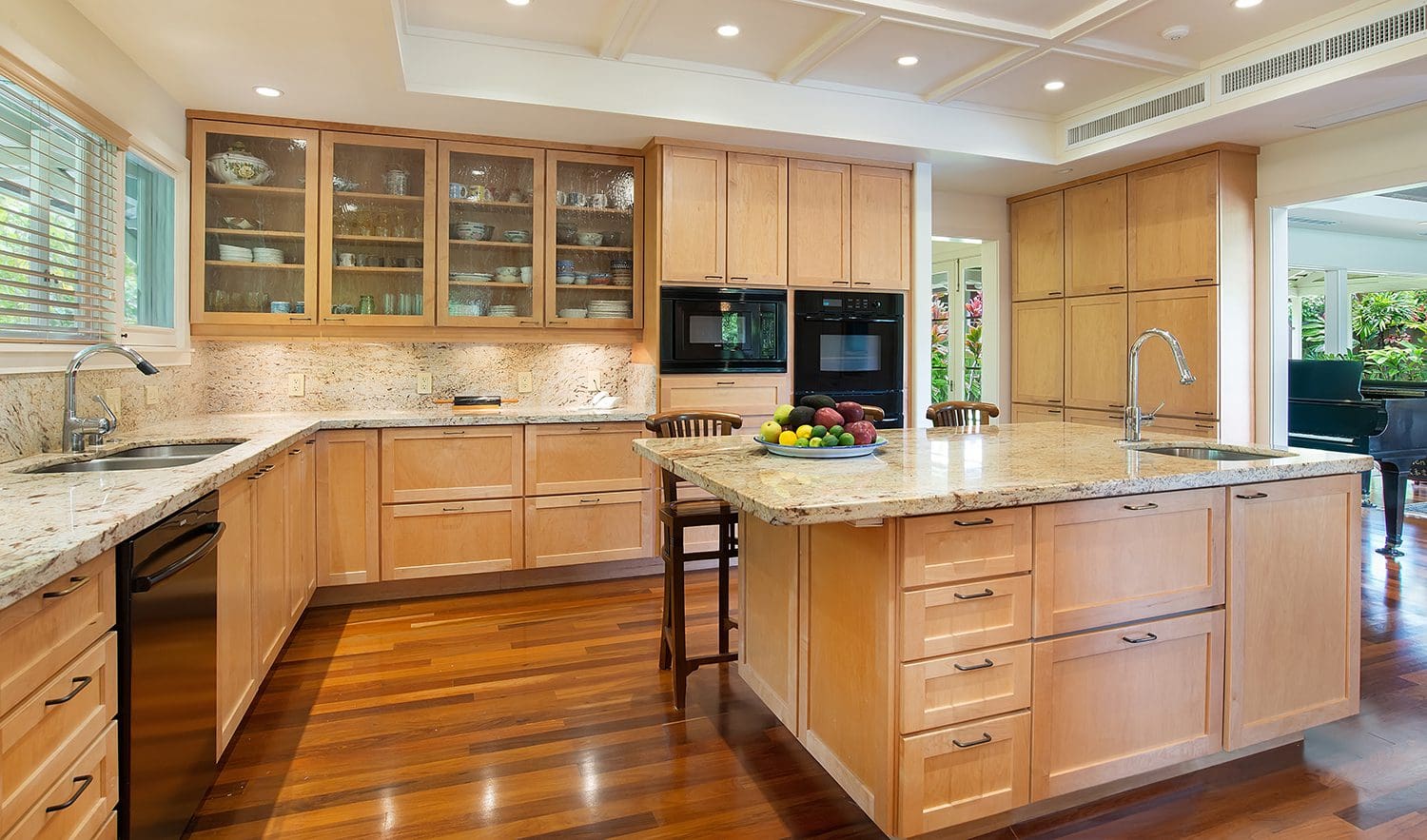 Each bedroom has a private bathroom. The bath renovations are equal parts of pampering and nostalgic. Electrical and plumbing have completely been replaced and upgraded for modern living throughout the home.
"Perfectly located at the foot of Diamond Head, this home is about location, location, location," says Anne Oliver, Vice President and Realtor at Coldwell Banker Pacific Properties. "There are very few homes in this prestigious neighborhood, no traffic, it is steps from Kapiolani Park, the Outrigger Canoe Club and Waikiki Beach."
Large trees and centuries-old vegetation is symbolic of the deep kamaaina roots in the neighborhood. "For Sale" signs are rare.
"There are only seven homes on Owena Street," Oliver says. "Families spend generations on Owena and Noela streets so this is a very, very special offering."
Visitors are drawn into this property by way of the magnificent lush and private garden courtyard setting, expansive trees, outdoor living areas, skyline views, and a tile swimming pool — the perfect place to relax and recharge or stage a fabulous garden party. The placement of the windows tell you this home's setting and expansive grounds are part of its charm.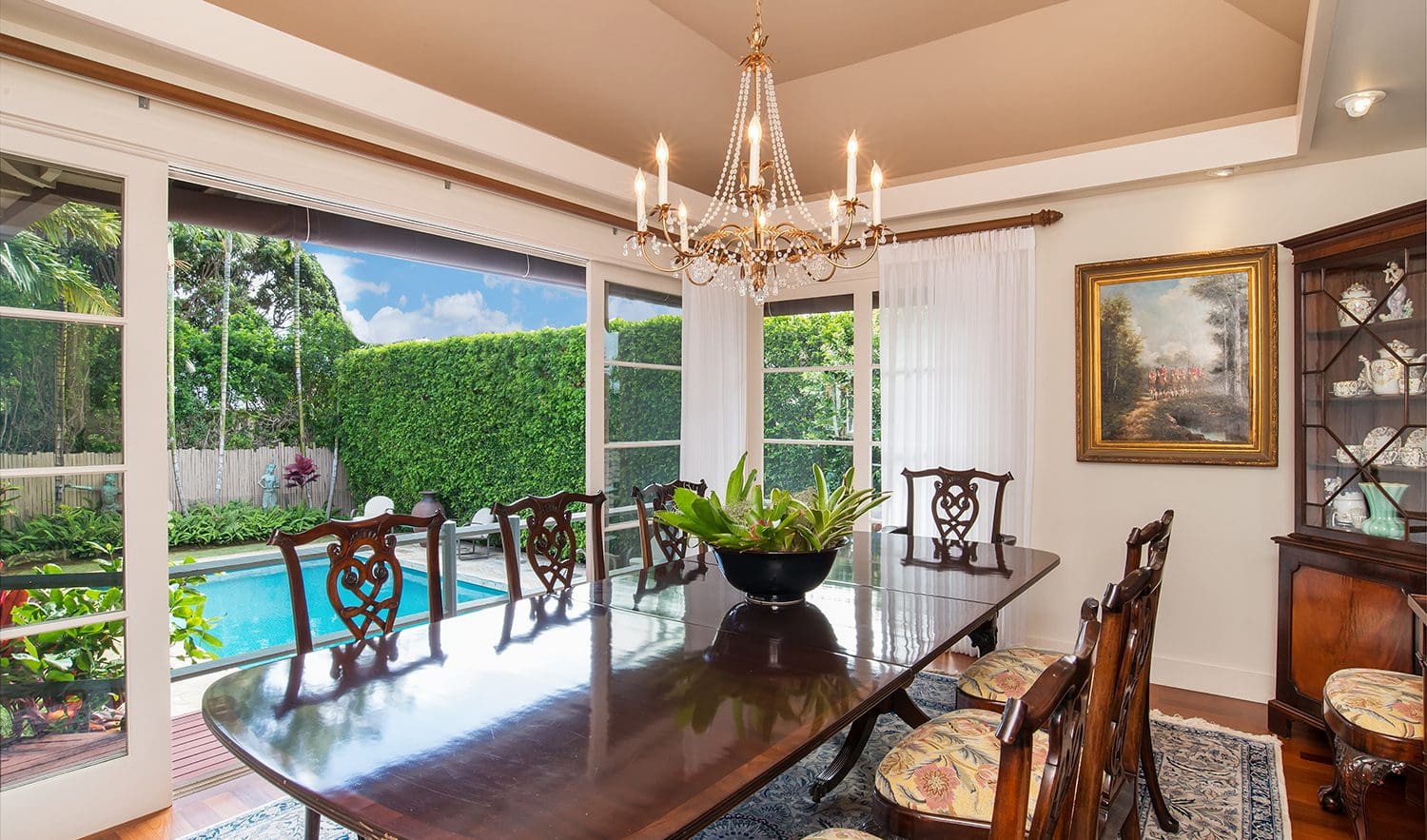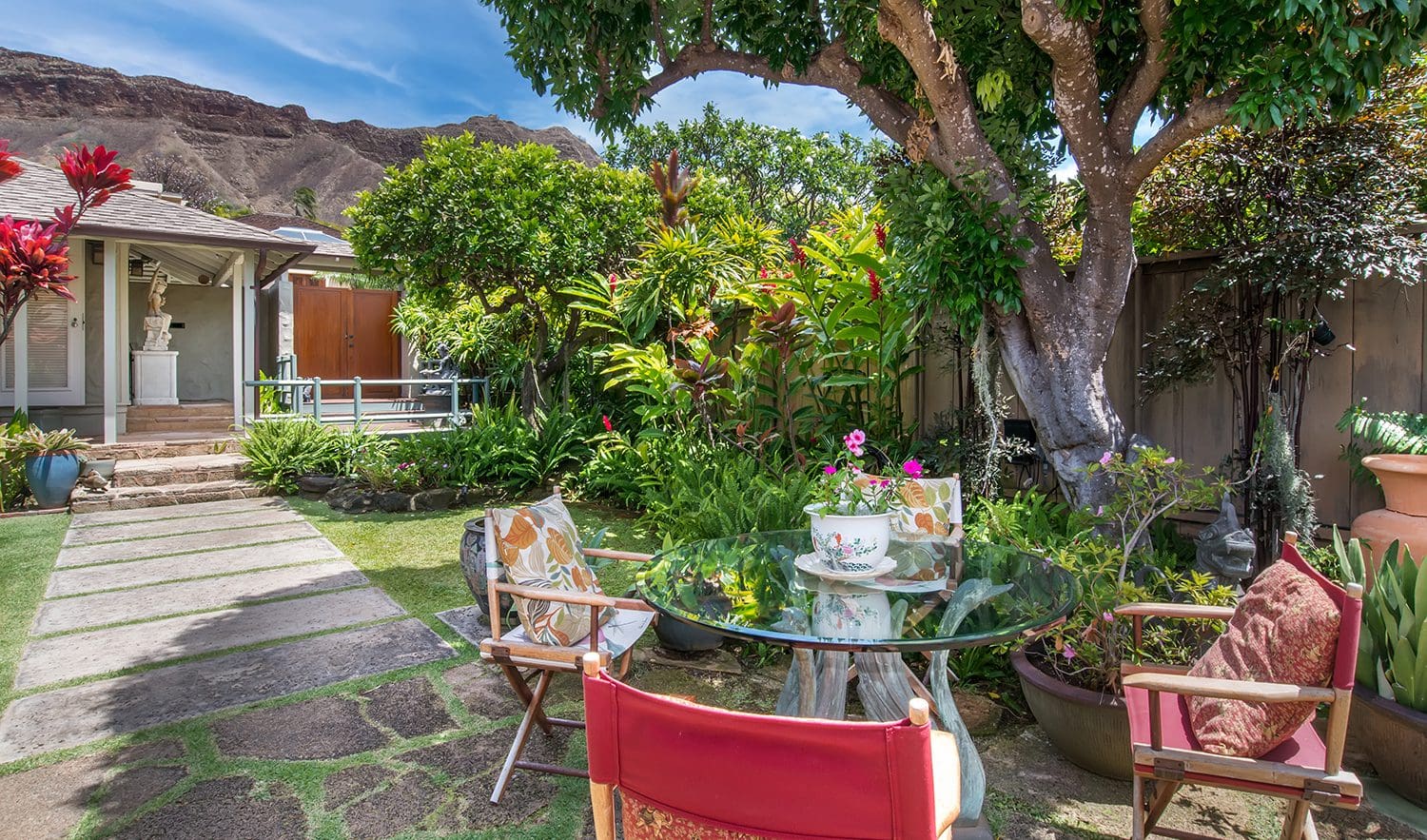 "This is a true kamaaina home, with a relaxed indoor-outdoor ambiance perfect for casual or formal entertaining with family and friends," Oliver adds. "Many of the architectural details have been restored, keeping the Hawaiian/Asian feel of the property. Architect Nancy Peacock incorporated many of the original Asian architectural details, which complement the contemporary designer kitchen, modern baths and art lighting."
The master suite spans the entire top level, which feels like a second level but is actually the third. The airy space includes king and queen-size walk-in closets with lots of built-ins. Along with a steam shower — residents will feel like royalty.
The main level consists of the kitchen, living room, dining room, an office, family room, laundry room, powder room and a second bedroom. And the lower level, off the pool, is a bedroom, sitting room, bathroom and separate storage room.
This home measures 3,883 square feet, has 3 bedrooms, 3.5 baths, and spaciously sits on a private 8,211 square foot lot.
3859 Owena Street is listed at $3,880,000. For more information about this beautiful home, call Anne Oliver, Vice President and Realtor at Coldwell Banker Pacific Properties at (808) 292-2800.
This feature originally appeared in the July/August 2015 issue of Island Homes Collection magazine. Story by Lisa Scontras, Photos by Andy Landgraf