Since March 17, 2022, the Federal Reserve has raised interest rates 11 times in 20 months — the most recent in July 2023— bumping up mortgage interest rates from a national average of 4.16% in March 2022 to nearly 7.76% today— and dealing a big blow to prospective homebuyers looking to finance their purchase.
Despite the steep rate increases, the year-over-year stats reported this week by the Honolulu Board of Realtors® show the number of closed sales, and even the median prices have persistently remained steady. There were only nine fewer single-family closed sales than a year ago— 222 in October 2022 compared to 213 last month. SF home prices were up $50,000 this year, compared to October 2022.
"Even with the normal shift in seasonal real estate activity as the holidays approach, we are encouraged by the solid sales data and how median prices have held up through the repeated hikes in interest rates," says Mike James, president of Coldwell Banker Realty Hawaii.
Though fewer properties sold at full-asking-price or more, compared to this time last year, 43% of SF sales (or 111 single-family homes) and 38% of condo sales (151 condos) closed at or above the asking price last month.
The median days on the market for single-family homes and condos remain under 30 days — single-family homes took 18 days and condos 21 days, compared to 19 days each in October 2022. Single-family regions with a median above 30 days last month include Leeward Oahu (41 days), Hawaii Kai (38 days), and Waipahu (32 days). Condo regions where it took more than 30 days, include Leeward (38 days) and the North Shore (37 days).
All this is pretty sweet, if you're a seller.
And while inventory is ticking up, current demand still exceeds supply, making it tougher for buyers to get noticed. So how can a buyer make their offer outshine all the others? What can a buyer do to better their chance of winning a bidding war?
Cash is always king, but most can't go that route entirely, so putting as much a down payment as possible, providing a prequalification letter, or better yet a pre-approval letter from your lender, can make your offer stronger. Remove any unnecessary contingencies. The idea is to give the seller peace of mind. For more tips on submitting the most competitive offer, contact your Coldwell Banker agent.
Sales of Single-Family Homes and Condos | October 2023
Source: Honolulu Board of REALTORS®, compiled from MLS data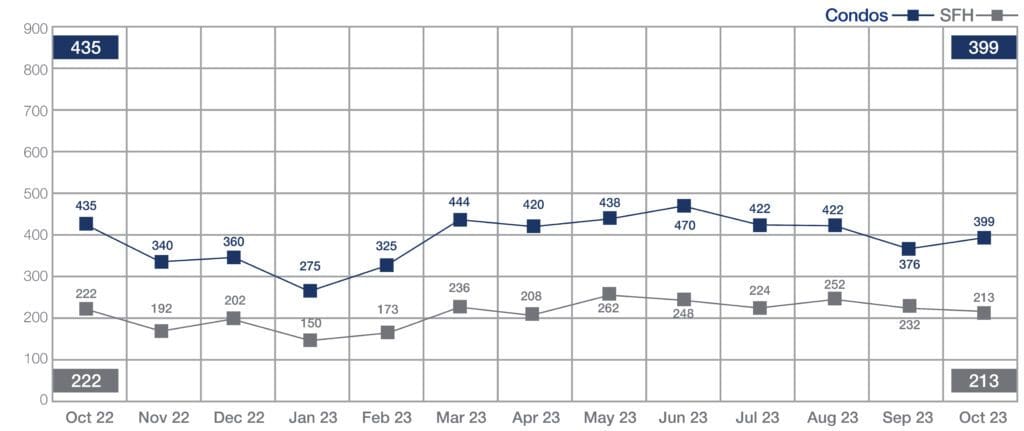 Volume statistics for last month compared to October 2022 were encouragingly improved. Compared to this time last year, there were only nine fewer sales last month — 222 closings in October 2022 and 213 closings last month (down 4.1%). There were 36 fewer condo sales — 435 condo units sold last year, 399 condos sold last month (down 8.3%).
Median Sales Price of Single-Family Homes and Condos | October 2023
Source: Honolulu Board of REALTORS®, compiled from MLS data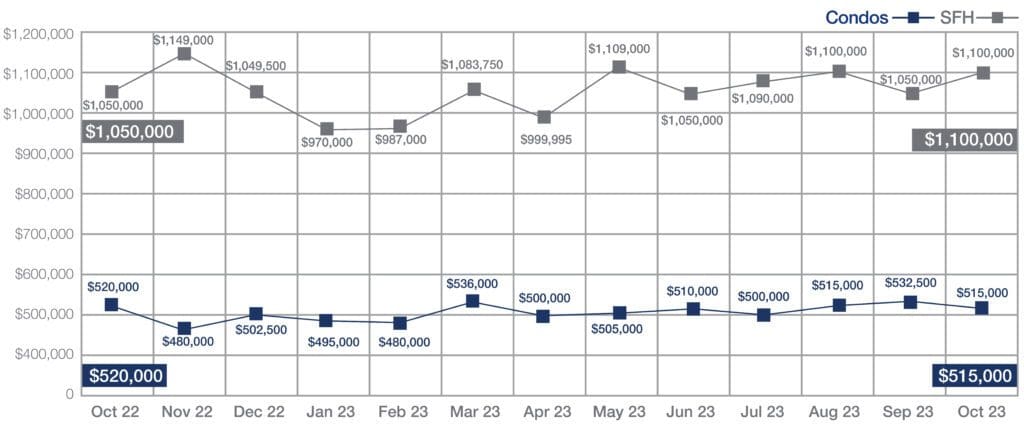 The real stability in today's local housing market is the consistency in the median sales prices for both single-family and condominiums on the island.
Single-family home MSP last month gained 4.8% from $1,050,000 in October 2022 to $1,100,000. Of note, September's MSP was $1,050,000, down from $1,100,000 in September 2022.
Condominium MSP is also running neck-and-neck with 2022. Last month, the MSP of a condo was $515,000 — down 1% from October 2022 when condo the MSP was $520,000.
The small blips up and down are reflected in the year-to-date MSP as well. After 10 months, the 2023 MSP for SF homes is $1,050,000, down 5.1% from the first 10 months of 2022 when the MSP was $1,106,000. The year-to-date MSP for condos is running even closer: Year-to-date condo MSP is at $507,000, down 0.6% from last year's MSP of $510,000.
NEIGHBORHOOD MARKET STANDOUTS
This month's spotlight is on those neighborhoods where homes and condos sold at or above the original asking price in September — likely a result of bidding wars. Check it out.
| | |
| --- | --- |
| Single Family                                 | Percent of original list price received |
| Aina Haina – Kuliouou | 104.9% |
| Kailua – Waimanalo | 100.1% |
| Kaneohe | 100.8% |
| Kapahulu – Diamond Head | 100.0% |
| Makakilo | 104.7% |
| Mililani | 100.9% |
| Moanalua – Salt Lake | 105.3% |
| Pearl City – Aiea | 100.0% |
| Waihiawa | 100.0% |
| | |
| --- | --- |
| Condos | Percent of original list price received |
| Ewa Plain | 100% |
| Kailua – Waimanalo | 100% |
| Kaneohe | 100% |
| Makaha – Nanakuli | 100% |
| Makakilo | 100% |
| Mililani | 100% |
| Pearl City – Aiea | 100% |
| Wahiawa | 100% |